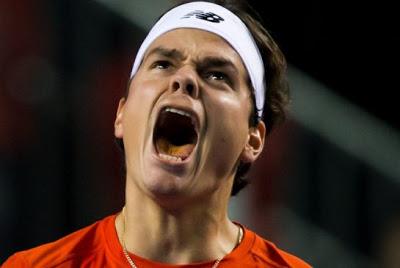 A year ago nobody could have predicted that Canada would beat Spain in a Davis Cup event. With a seemingly never ending roster of great players like Rafa Nadal, David Ferrer, Nicolas Almagro, and Feliciano Lopez, Spain is considered to be one of the top countries in the sport—certainly stronger than Canada with it's one player in the top fifty.
Yet here we are, in 2013, with Canada beating Spain to advance to the second round of Davis Cup World Group play for the first time....ever. Sure, Spain didn't have many of their top players there (okay fine, Spain didn't have ANY of their top players there), and it likely would have been an impossible task for Canada to have beaten Spain if Nadal and/or Ferrer were in attendance, but this win still matters, and it's a big deal for Canadian tennis.
For the first time ever, Canada has produced a player that people are talking about—and not just those people in the tennis world. Milos Raonic is slowly becoming a household name in Canada, and his success is a great thing for the sport of tennis in Canada.
Now if he could just win one of those pesky grand slams...