So Canaan Smith has likely just crossed the border to perform 3 nights in Ontario, Canada on the Black Out Tour. Here is Canaan's current single Hole In A Bottle. Crank it up and we sure hope you are making it out to see him this weekend cause we know he sure brings a party! He is also a 2x Alumni from Boots and Hearts.
You want to own this one? Just click here for the iTunes link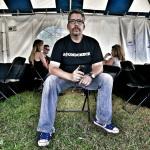 Well if your reading this you must really be bored... So I was born and raised in a small town and have a thirst for good Canadian Whiskey and amazing Country Music.