Hello Ladies,
I know I said no more posts with a cell phone
camera, but I loved this one too much to
keep to myself. I used the new BM 222 and the
flower was from P30

. I don't remember seeing
this design used yet so I tried it.I think black
and white looks awesome, I find the bottom
to be too bare with french tips so I always
find a little something extra.
Hope you like it, Have an awesome weekend!
I will see you ladies next Wed!
Hopefully with a new Macro Camera
for crisp,clear and bigger pics.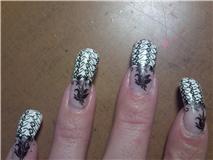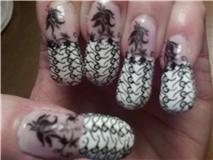 Thanks for dropping in.
Nicky