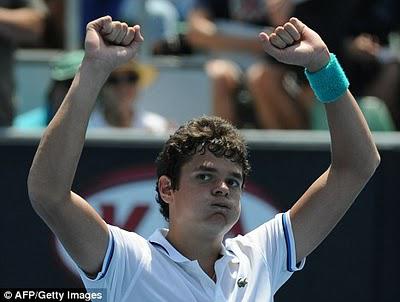 I am so excited for tonight's match of Milos Raonic vs. David Ferrer. I really don't know who I think will win. I
want
Milos to win (because let's face it, I don't get to cheer for Canadian tennis players too often), but Ferrer is going to be really tough to beat. Unless, of course, Milos plays like he did against Llodra and Youzhny—which basically means staying calm and serving ridiculously well. Seriously, I can't wait for this match. I want it to be on right now.
I have a feeling Milos is going to win, but I'm having trouble deciding if I actually think he'll win, or if I just want him to win. No, you know what? I do believe that he can do it. I mean, why not? If he knocked off Youzhny he can take out Ferrer. Let's do this Milos!
Also, can you believe that Milos is the only non-European left in the draw? Yeah, it's crazy.