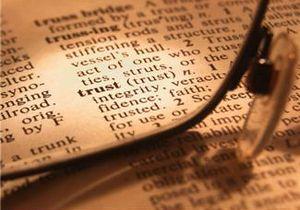 I recently read an account from a home remodeler who said he was always curious about why people ask several different remodelers for bids. He said he has learned that it isn't just about price. Experience has taught him that when homeowners ask for three bids they are actually asking "Can I trust you?"
Trust was a key factor this week in negotiations for radon mitigation for a buyer I am representing. Several bids were obtained and one came in significantly lower than the rest. My buyer didn't trust it and when she did her research she found reports from some clients who were not satisfied because the cost savings came from cutting corners. This wasn't acceptable to her. She found another mitigator who answered her questions and provided information that made her trust them, even though their price was higher.
"Can I trust you?" usually is asking if you have a mutual understanding of expectations and priorities... and are you able to communicate effectively with me. Everyone has different priorities and a different concept of quality, price, service, satisfaction... which is why actually talking with a potential service provider can be so valuable. This is also why so many people rely on the referrals of friends and family who share common values.
 Sharlene Hensrud, REM/MAX Results - Email - Minneapolis-St. Paul Realtor