This morning, I invented these lovely smoothies. I had some blueberries in the fridge that I needed to use up so I created this: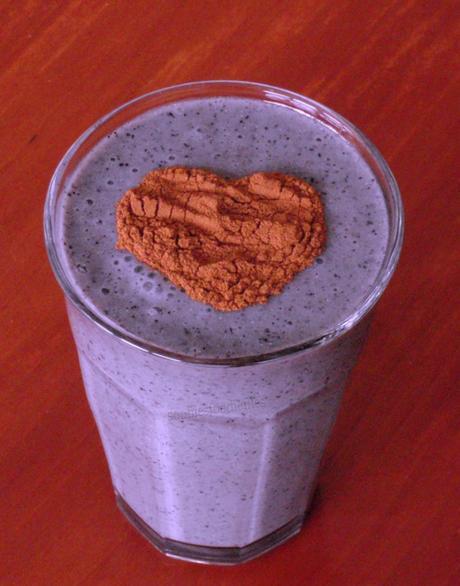 MMM!
This smoothy is also Vegan & Gluten-free, of course! :)
Recipe: For 2 large smoothies = 800 ml = + 3 cups
Ingredients:
2 large peeled frozen bananas
400 ml unsweetened soy milk
1 cup blueberries (160 gr)
1 tablespoon black chia seeds
to serve, as a topping on each surface of the smoothy: a cinnamon heart!
Method:
Take your Vitamix container & add all ingredients except the cinnamon in it. Place fitted lid & tamper on. Blend onto high & full-speed until it is fully mixed. Use tamper to push ingredients into the running blades. It took me 15 seconds. Taste. You must taste the sweetness of the bananas & then the blueberries. It is yum yum! Pour into lovely smoothy glasses & on top of each smoothy, in the middle, place a heart-shaped cookie cutter. With help of a small spoon, spoon ground cinnamon in the heart-shaped cookie cutter. See that you don't add cinnamon outside the cookie cutter! Take off excess cinnamon with help of the spoon. Carefully & quickly remove the cookie cutter & you end up with this, heart above!

:)

MMM! Enjoy, sweeties! xxx Stay Tuned! If you liked this post & want more of them, 

join 1,402 email followers! Subscribe by email! It is free!

Follow Blog via Email

Enter your email address to follow this blog and receive notifications of new posts by email.

Sophies Foodie Files

Tagged: Breakfast, Dairy - Free, Egg - Free, Gluten - Free, Smoothies & Juices, Vegan, Vegetarian