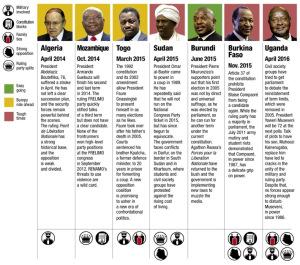 Source: Snakes & Leaders – Africa's political succession. Marshall van Valen
Political controversy created by the Burundian crisis is far from ending.
On 26th April 2015, president Pierre Nkurunziza was nominated by his political party CNDD/FDD to be its candidate in the June 26th general elections. He is in power since 2005.
The nomination prompted immediately popular protests especially in the capital Bujumbura. They went on running until Wednesday of this week. On that day, a now failed military coup by general Godefroid Niyombare was reported.
Back in the country from Tanzania where he was attending a regional summit about the crisis, and from where he learnt about the military coup against his government, president Pierre Nkurunziza has two choices:
lucky that Burundi security forces in their majority remained loyal to him, he could either rely on their support and carry on with his bid for a disputed 3rd term; or
assessing rightly the risky and uncertain path Burundi might take if he ignores the significant fraction of the population opposed to his possible re-election, he could withdraw his candidacy.
Around 50,000 refugees are now reported to have fled their country following the political insecurity created by the ongoing situation. The course of actions Nkurunziza will take will certainly impact in one way or another on the humanitarian crisis that events of recent weeks have caused.
There is equally serious fear that ignoring the strong claims of those among Burundians considering as unconstitutional Nkurunziza's bid for a 3rd term could ignite the resurgence of armed rebellions. Consequences for such direction are well documented.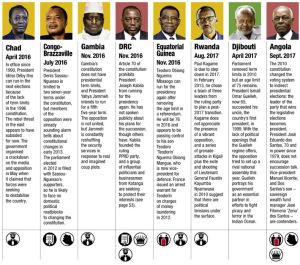 Source: Snakes & Leaders – Africa's political succession. Marshall van Valen/ The African Report
In 2010 elections that a number of rebel groups boycotted, they argued that they could not participate because they found that they could not politically operate in a space significantly strongly controlled by the president's party and government. Generally, those elections were "boycotted by opposition parties on the grounds of alleged corruption in local elections."
Democratic gains of the last few years with strong civil society organisations could be easily lost through Nkurunziza's stubbornness. Many independent radios and televisions have been targeted during ongoing political unrest. It will take them time to reopen office if they ever do.
Not only that, Burundi which has experienced many troubled periods of its history of post independence, characterized by genocides against hutu and or tutsis alternatively, could go back to those dark days.
The question that anyone thinking positively about Burundi should have on their mind should be this one: Can the country, through its president Pierre Nkurunziza who escaped a military coup, write now a special page of its history this time?
As Nigerian president Goodluck Jonathan marked recently a significant milestone in African democracy by accepting his defeat in the 28th March elections to his contender General Muhammadu Buhari, president Pierre Nkurunziza of Burundi could as well strengthen his country's democracy by withdrawing his candidacy in the coming elections.
Unless he considers himself as the one and only indispensable leader of Burundi or his party, like other dictators in Rwanda, Uganda and elsewhere, perceive themselves in their own respective countries, his staying in power will be negatively exploited at the expense of a peaceful future of Burundi.
It's only by withdrawing his candidacy that he could preserve political stability that his country critically needs. In a different scenario, for example by forcing himself into a 3rd term, this can only exacerbate the current political tensions.