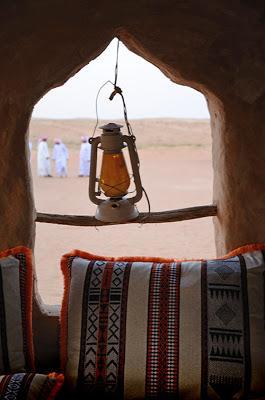 Weekend breaks just ain't what they used to be. None of that popping into the hills behind town, buying organic apples at a roadside stall, wine tasting on the way, rolling fields, fragrant gums, roos doing their kamikaze leaps across the highway in front of your speeding car at dusk. No more country pubs for lunch, farmers markets in paddocks, cheese sampling in stinky dairies. Ahhh, those were the good old days.
But these are the good new days. This arid region might not offer much in the way of greenery, cellar doors and local produce, but there's a whole lot of sand to explore. Only twenty minutes drive from the spires of Sheikh Zayed Road will bring you into a beige sea that tilts and rolls just like the blue one. Its texture changes  - some regions are rusty and treacherous, others like peachy crumpled blankets, and more are flat and stony, the color of parched bones. The sands reflect the sky's moods just as the watery depths do. They are blindingly bright, mousey, red, purple or black. It's amazing how different something can look when it's really all the same.
Staying in the desert is something that everyone must do when they come to Dubai, or anywhere around here really. Even in summer, when the back blocks of this dusty land resemble the sunny side of Mars, when the very air melts, there are options. If you live here, then there is really no excuse.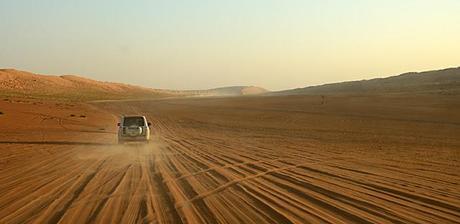 There are three styles of desert experience. First, the self-arranged camp. But I'm no expert on this, and tend to sympathize with Debbie in this post. If that's your piece of cake, I'll start you off with
Time Out's suggestions
. Then get yourself down to Carrefour, spend 3000AED on gear that you'll only use once, and I'll titter over my Mai tai while I lay back poolside at Qasr al Sarab and think of how we've just spent the same amount of money for entirely different experiences. (I know, I know, it can be good. But ONLY if you're kitted out, know what you are doing, and where you are going.)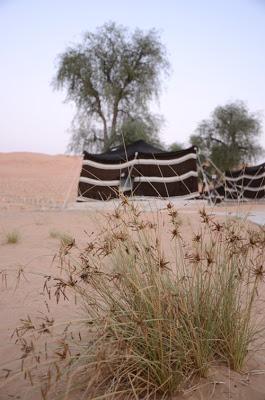 Secondly, is the organised camp. This varies in quality from five stars down to about negative one, so make sure you do your research, and have reasonable expectations before you trek out there. Most of the 'dune bashing' organisors will also offer an overnight stay that is tacked onto the evening 'safari' (safari means "a journey or expedition, for hunting, exploration, or investigation", so this term has been entirely exploited). To be honest, if you don't have much to spend, don't mind a bit of kitch and noise, and it's not summer, then this could be a good option. Prices will include all manner of gimmickry like camel rides (a circle 20m in diameter, not an idyllic sunset wander over the dunes), henna painting (careful, you may be allergic), trying on of national costume (100% polyester, worn by hundreds before you), belly dancer and super duper authentic buffet of soggy spaghetti bolognese and bland chicken curry followed by watermelon chunks and crusty custard. Sleeping conditions are basic, but most camps have toilets and showers. All operators are much of a muchness - the tip is to get a deal
. Groupon and makshoom
will have them going now and then, so if you plan ahead you can really save some cash.
If you want something a little more towards the upper end of the spectrum (yes please!), have a look at these (in ascending order of quality/authenticity)
Gulf Ventures - This is where Dubai Drums hold their full moon drumming, and it's a reasonable camp, just a little better than the 'safaris' mentioned above. It sits in a lovely hollow in a quiet area. Food is a little better (arabic BBQ), and the camp itself is sheltered and reasonably pretty. If you can partner it with full moon drumming (my experience linked), even better. Licenced camp, no BYO. Overnights start at 445AED for min 4 sharing a tent, or you can take the tent itself for 2045 for the whole weekend. Includes pick-up/drop-off from anywhere in Dubai.
Arabian Incentive is a fairly recent addition to the dunes of Ras al Khaimah. It's a more authentic experience involving activities like horse or camel treks over the dunes, falconry and 4WD expeditions (rather than pitching and fishtailing over crowded and rutted dunes just to freak out the grannies in the back). There is some of the standard tack on offer (belly dancing, shisha), but over all, it's better presented. The overnight accommodation is fairly basic, and food is served buffet style, but like the above, is a little better than the norm and at least keeps things in an arabic vein. They also offer the occasional drumming session, and other events like this will crop up now and then. Other benefit is the proximity to this beautiful section of desert spotted with ghaf trees. 340AED (about $100US) per person, pick up and drop off from a meeting point in Dubai is an extra 60AED. You can BYO booze, but best to check with operators first.
Liwa Desert Safari will take you way out back into the real desert. There's no organised campsite, no belly dancer, none of that stuff. Just Land Cruisers, 100-meter sand dunes, a look at some far-out sights in Fujeirah and Dubai, including a date farm on the edge of an oasis, and then a quiet camp set up in the middle of nowhere for a barbecue dinner and a sleep in the arabian wilderness. Make sure you book the right safari, because the group offers many styles of adventure with prices varying from about 1000AED upwards. Not for summer visitors.
Platinum Heritage is the real deal, and more. The safari takes place in the desert conservation near Al Maha (mentioned below), in 1950s Land Rovers. They take you on an expedition to see the Arabian oryx, and local flora, and then there is a falconry display. Dinner (limited to 40 guests maximum) is truly authentic, a 4-course meal with deliciousness like ouzi (whole baked lamb with biryani style rice) and lqeimat (like doughnut holes, smothered in date honey), and is followed by storytelling and cultural entertainment. Breakfast with a bedouin accompanies the morning. Accommodation is in natural fiber tents. Overnights are 795AED per adult, and 595 per child, so it's not cheap. You can opt out of the overnight and go home after dinner for 495/395. They also have more expensive options involving Mercedes G500s and 6-course meals and more, starting at 1295AED. Part of the fee goes to conservation of the area. Alcohol can be requested, but must be done beforehand as it is a camp designed to be of authentic Bedouin style and there is none on site at most times. I found out about this amazing tour through a twitter mate - Daniel at Al Arabi, and I've booked one through him (email link) for my husband's birthday next week. Expect a more detailed post shortly.
For something further afield, there's Wadi Rum, Jordan, which I have posted about previously here. Its an area with little on the luxury side, and so it's best to find a small camp in an area that appeals to you (it's a big wadi) and enjoy the rustic pleasures for what they are, shunning all luxuries and absorbing bedouin life. Scott Dunn will set up bespoke camps in Wadi Rum, but also in Oman, in either the Wahiba sands area (more on this blow) or up in the mountains that frame Muscat and the northern coast. Another crowd, Elite Oman, have the glamping down pat, complete with queen size beds, fluffy pillows and private chefs.If you don't want all that, then maybe try Responsible Travel, with tents starting at 40 Rials (just over $100) that might not have all the mod cons, but keep your soul clean.
Thirdly, is the desert resort. This ranges from faux glamping (the term 'tents' could only be used loosely) through to desert castles like Qasr al Sarab. There's several around, the more notable of them being:
  Bab al Shams - This is an adobe brick fortress style building, just past the wasteland that joins Dubailand to the more pristine areas of desert, less than an hour out of Dubai. The surrounding sands are golden and not as alluring as those closer to Al Maha, but you will find oryx if you look hard enough. You might even find a sheikh trotting past on his noble steed from the nearby equestrian endurance club. But it's more about the inside than the out. It's an incredible setting, with pale turquoise pools, and trickling fountains joined by a falaj system that encompasses the entire resort. The walls are the same dusty gold as the surrounding desert, but inside it's ornate, plush, genie in a bottle styled. Five star, complete with all the trimmings (day spa, range rover expeditions, dinner on scarlet rugs under the stars...). Starts at under 1000 AED per room per night (in summer), rising to double that in peak seasons. Can even be experienced in summer as the pools are chilled and there's plenty of air conditioned inside space.
Al Maha is the other big one in Dubai. Accommodation ranges from private chalet to sprawling pavilion 'tent' (so much more than a tent). Everyone gets a private pool. In fact, it's private everything, and no kids are allowed. The cuisine is exceptional, it's in the best part of Dubai's desert, and you never see another guest unless you want to. Just in case that isn't enough to make you romantic, it's just about expensive enough to scare someone's pants off. At the absolute peak of summer, rooms start at 4000AED. The Presidential suite will set you back about 20K. You can however book a daytime experience if you just want to have a look around. They start at 550AED including lunch, or visit Lime and Tonic's page for their 'spa day' offer.
Arabian Nights is a fairly new village between Abu Dhabi and Al Ain, and stays fairly true to traditional Emirati style. Accommodation is in fort towers or barasti huts, and has a good level of luxury without being bloated with opulence. There's a pool and air conditioning, so summer visits are possible. The highlight here is the dining, which prides itself on being true to the Emirati traditions, something surprisingly rare in the area (most other Arabic menus tend to veer closer to Lebanese cuisine). Prices start just under 1000AED per room per night.
Next we have Qasr Al Sarab, which rests in the Abu Dhabi emirate between the Liwa oasis and the hundreds of kilometres of sandy sea stretching into Saudi Arabia known as the Empty Quarter. It's fortress style, like Bab al Shams, but bigger, bolder, more isolated. This area of desert is rose-gold, and owns the largest dunes in the world, but many who go never leave the resort. Blogged previously here. Prices have dropped a little, and you will find the standard rooms range from 1000AED per room in summer up to 1500 at cooler times. Of course there's plenty of non-standard accommodation if you need a bit more space (in your wallet)
The Banyan Tree has a little of everything. It's based in Ras al Khaimah, and they also offer a beach resort nearby. The desert retreat is similar to Bab al Shams in style, but with a more contemporary than arabic style. It's still exotic in every way, but you'll find clean lines and neutral colours rather than the ornate and plush interior of the other. In other ways it competes with Al Maha, with private villas or tent-style dwellings, but children are allowed, and there is even a kids club. It's got all the activities you would expect to find, a nature reserve, plus a 4000 sq meter hydrotherapy spa. Prices range from just over 1000AED, but you're usually looking at around 2000+ for a pool tented villa.
Back to the wahiba sands in Oman, just a couple hours drive out of Muscat (about 7-8 from Dubai) there are a couple of well known desert resorts that should not be confused with each other (I accidentally booked the wrong one, but luckily all turned out well). 1000 Nights Camp is glamping of a sort (tramp-glamping?), with camel-hair tents, and a super majlis with lovely food. Entertainment is tasteful, with omani music, drums and traditional dancing (finally we get away from the belly dancers!) Officially there is no alcohol, but you can bring in wine and drink it quietly in your own area. It's an experience that warrants its own post, so expect one soon. Prices are around the 50 Rial (500AED) mark per night in the cool season - avoid in the summer. Although there is a pool, the tents are not heat-friendly. 
The luxury option is the other one - the one I meant to book - known as Desert Nights Camp. It's double the price and then some, but for that, you might actually get a little more of a look at traditional Oman, including a trip to a bedouin home, and some traditional food such as Shuwa, a dish often talked about in Oman but rarely found. They also have a communal games room and a not-so-traditional cocktail bar. Ah well, next time...
So - enough options? C'mon, time to get some sand in your pants...