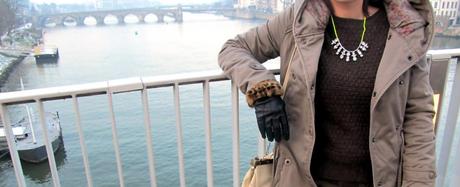 One more day and I'm flying back home. These past weeks have been exhausting with all the thesis brainstorming thing happening, at least now I have a topic and some ideas on what to write about. As a matter of fact it would be amazing if you guys could help me out with filling some questionnaires later in time if you're from Europe. I'm writing about online music streaming services like Deezer and Spotify and if you're interested let me know so I can approach you later. 
 That being said, here's another cold day in Maastricht where I ditched the black but somehow I ended up with this camouflage color. I was surprised to see that while shopping at sales these past few days I haven't purchased any black color clothes but in fact somehow lighter colors. Let me know if you'd like to see what I found at sales here in Maastricht!
Sweater and Jeans: Zara/ Shoes: Ash/ Jacket: Stradivarius /Necklace: H&M/ Bag: Vintage
Ps: In the last photo is the most beautiful painting I have ever seen. I think it will look amazing in an all-white home.
x