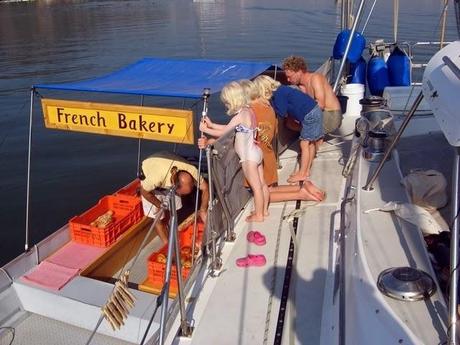 When we left to go cruising in 2008, we had a basic digital camera. It was fine: it captured the memories, which was the primary purpose: like buying our pastries boatside in Barra de Navidad. I really love taking pictures, and wanted a DSLR (my old SLR being a dinosaur that found a new home instead of coming with us), but it just didn't fit in our skinflint cruising budget.
In the summer of 2009, we left the boat in San Carlos, Mexico, for a few months and drove thousands of miles around the USA, visiting family and friends. While we were with my family in Pointe Aux Barques, Michigan, my brother gifted his Nikon D40. With a baby on the way, he was upgrading, and he knew I'd really like it- and wow, did I! It was glorious to get back in the groove of taking pictures more thoughtfully, and with more levers to play with to get just the right shot. My joke at the time: "no more missed dolphins!" The old camera had a gift for shutter delay that made it impossible, without ESP, to ever get those dolphins as more than a splash. Now, I could get the dolphins. I could mess with the shutter speed or the aperture and nail the low light pictures or portrait shots. The Nikon is my constant companion.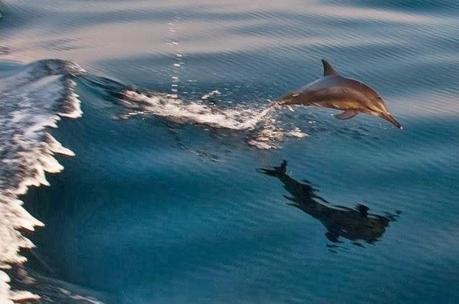 Much better dolphin shots now!
About a month ago, my trusty companion, the Nikon D40, stopped working. The shutter's normally reassuring two-tone click dissolved into dissonant clacks, and then stopped entirely.  Crumple, snap, and just like that: no more DSLR.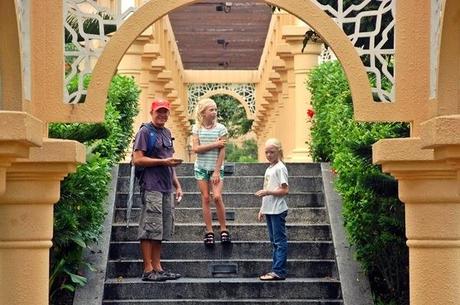 Last photo before… nothing.
We have a point-n-shoot, a Canon D20 Powershot, which serves the primary function of underwater camera. As an underwater camera, it is fantastic for our needs. We have a small budget, so purpose built / underwater housing on an SLR is just not an option- but we get some fantastic underwater shots that I'm more than happy with.
Honestly, it does a fine job of capturing the memories above the water too. It's a serviceable backup, but the DSLR give me so much more control, and it's what I carry when I want good shots. Not being able to use it felt like missing a limb.
It is perhaps a little ironic that the Nikon breakdown occurred literally the day after I ordered a new Nikon DSLR body. It was shipped to my parents to carry in their luggage for their visit to Totem, so I'd have it… in about a month. Just a month. No big deal, right? (Did the D40 sense it had competition?)
Meanwhile, I became That Person who takes photos with an ipad. I am not proud. I know it looks ridiculous. But if the ipad is in my bag already, as it was so that I had ready maps and information when I was tooling around a new place, well… I'll use it. It's getting the memories. It's just not always pretty, in more ways than one.
I had looked up the Nikon service centers in Malaysia. One, in Penang, was on our way to Langkawi- although we only planned 2 days for Penang, just to get our Thai visas organized. I called and talked to them about the camera, and they weren't sure it was an easy fix- it might need a few weeks. No problem, I'd have the new one soon, and just get the older one fixed when I could.
When I found myself with time to kill waiting on the Thai visa process, between snacking on the amazing food in Penang (and partly because of it) I walked the stretch south of Georgetown to Penang's Nikon service center.  One hour later, I had a camera that felt like new.
They had to replace a motor driving the shutter. The camera was thoroughly cleaned. The flash, which I hadn't even mentioned was broken (it's been so long since it worked, I honestly forgot), was repaired- just a loose connection, it turned out. I couldn't believe what they did in such a short time!
The topper: it cost all of $75.
Last year, I contacted a Nikon camera center in Australia to quote repairing the flash. Minimum fee "just to look": $200. Additional cost after to be billed at an hourly rate, minimum one hour. Parts additional, of course. Can you imagine what they would have charged to fix all this? Probably more than the new Nikon body I just got (which was a steal, granted, but…still).
I had my extra limb back.
A point-n-shoot just can't compete for controls.
Better yet, now I've got two bodies: if something goes amiss, there's a backup for 'the good camera.' It sounds silly, but there were so many times in The Month Without A DSLR where I just thought- "oh, if only!"- because I missed some great photo ops because without the right gear.
When I think about the camera gear we have on board, this combination of the compact underwater / multipurpose with a nicer DSLR is perfect. We don't have enough lenses (do you ever have enough? don't answer that) but a couple that let me meet most needs. Really helpful for tropical cruising is a polarizing filter, which is key for dealing with reflection off the water and glaring low latitude light.
But ultimately- it's just about capturing memories.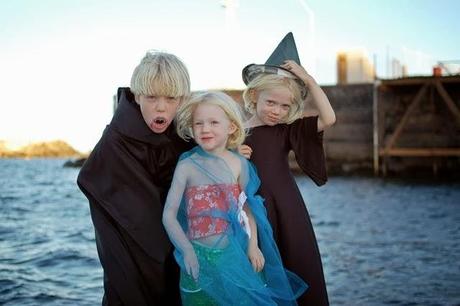 Halloween, Santa Rosalia, 2009