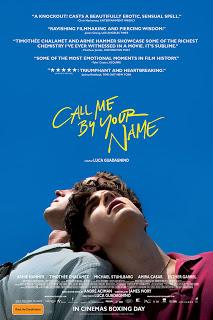 A heart breaking coming of age love story by Luca Guadagnino is a story about two guys trying to figure out the matters of heart. It is simple in its story telling and why I am not focussing on its 'gay' part is because 2 secs into the movie you just see two characters falling in love. 
It is the protagonists first love and anyone who has ever fallen in love will be touched by all its moments. The infatuation, the confusion of how to approach, the initia
l denying, playing the hard to get, crying sour grapes, and then not being able to hold it in anymore, the hinting, the aggressive hinting....so many things. The movie takes its own sweet pace to tell this love story because that is all it wants to do - show the love. Kudos to the director.
Timothy Chalamet, plays the central character of a 17 year old guy falling in love with the foreign student who comes to spend the summer under his father's mentorship. The closing credits with him crying just seals the deal for me that this is the best performance this year. Ofcourse, the only competition at the awards is Gary Oldman's performance as Churchill. Chalamet is better than Oldman here, but since Oldman is a veteran and has never been awarded for all the great works he has done before, I suppose Timothy will have to wait for another chance.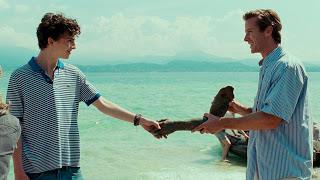 Armie Hammer was surprisingly good as the foreign student. It will be cruel not to mention this great 'side' actor, Michael Stulbarg, who plays Chalamet's father. Not only is he a great director, he probably has the best scene in this movie where he tells his son, that he can be whatever he wants. And the monolog in the scene is great writing too.
The movie is slow and artsy and sensual for sure, but if you are ready to invest your time you might come out feeling good.