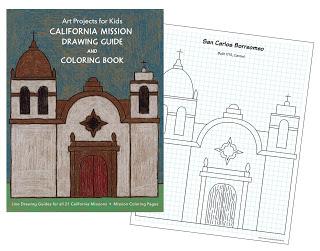 Every year my students really enjoy drawing California missions. To help simplify the architectural details, I've created line drawings all 21 in my new pdf book. Included are: Basilica San Diego de Alcala, San Carlos Borreomeo, San Antonio de Padua, San Gabriel Archangel, San Luis Obispo, San Francisco de Asís, San Juan Capistrano, Santa Clara de Asís, San Buenaventura, Santa Barbara, La Purísima Concepcion, Santa Cruz, Nuestra Senora de la Soledad, San Jose, San Juan Bautist, San Miguel Arcangel, San Fernando Rey de Espana, San Luis Rey de Francia, Santa Ines, San Rafael Archangel, San Francisco Solano de Sonoma. You can see a preview of all the pages in the book HERE.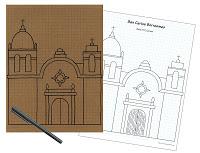 To draw a mission like my sample above, print the grid on the last page of the pdf file on brown kraft paper. I like this brand I found at JoAnn Fabrics. Follow the mission with the grid to make the pencil drawing on the kraft paper. Trace in black and color with colored pencils.
For those that just want to have coloring pages, print the second set of mission pages that do not have a background grid or title. Color in as desired.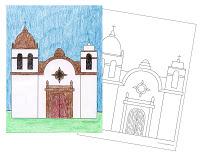 To purchase and immediately download this pdf file, click the image above and you will be directed to my new PDF Shop.