Caldo Verde is a traditional Portuguese soup that is packed with flavor, with only a few simple ingredients, This hearty soup is chock full of kale, Portuguese Linguiça (smoked sausage), potato and aromatics.
Caldo verde is a dish that takes me back to my childhood. I first had this soup as a kid, at my babysitter Florinda's house. She was Portuguese, and her kitchen was always filled with delicious smells and flavors. I didn't know what I was eating at the time, but I knew back then that it was damn good. So after many years, I had this soup again as an adult at a local Portuguese restaurant, I finally learned it was called Caldo Verde! This soup is super satisfying, and super healthy! It's full of tons of kale, with just the perfect amount of salty, fatty goodness from Portuguese Linguiça.
What Is Caldo Verde?
Caldo Verde translates to green broth, and it's a traditional Portuguese soup. Since it is a rustic comfort food historically made in homes all over the country, there isn't just one way to make it. However, many recipes include greens, potatoes, onions, garlic and sausage.
What Ingredient Are In Caldo Verde?
Many variations of this Portuguese soup combination exist. Some use kale, while others use collard greens. Some include beans; others do not. Most call for a Portuguese hard sausage with a strong garlic flavor called Chouriço. Other recipes use Linguiça sausage. If you can't find Portuguese sausage in your area, you can swap it with Spanish (cured) chorizo. Don't use Mexican chorizo, it won't work in this recipe.
What To Serve With Caldo Verde?
This is a hearty soup, so it's a meal in one pot. I would serve with some crusty bread for dunking. You can also serve this soup as an appetizer before a traditional Portuguese meal!
Can I Freeze The Leftovers?
Yes, this soup freezes well. To reheat, simply add to a pot and heat until hot.
Want More Cozy Soup Recipes?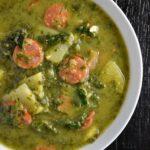 Caldo Verde (Portuguese Kale and Potato Soup)