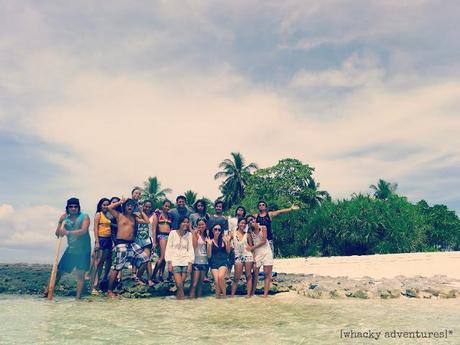 Here comes the sun... :]
'Naa nami sa bus. Padung nami sa Maya.'
Timecheck: 3:00AM. The stars were still out when we got the go signal. It's still months before December but I felt like a kid on Christmas. I struggled to contain my excitement. I've been wanting to go on this trip for quite sometime now.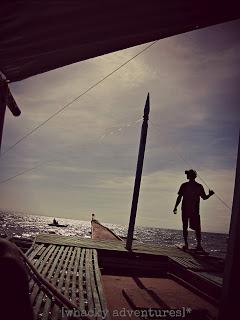 7:00AM.
Osang
contacted our boat ride days before and already made arrangements. The 25-head capacity boat that'll bring us to Kalanggaman Island was already on stand-by in Maya Port. Maya port, located on the northern tip of Cebu, is also the drop-off point for tourists going to Malapascua Island. Riz, 5 of my highschool friends and 18 of my friends from
EWIT Mountaineering Group
boarded the boat all revved up and steaming with excitement; evident through our non-stop laughter and chatters.
It was a good 1 hour and 30 minutes ride from the port to the island. It was a rough ride, with sporadic big waves but the high and mighty sun was out to assure us that we'll have a great time.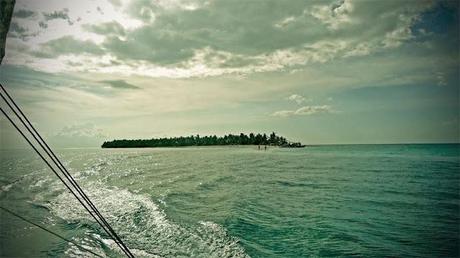 Photo taken by Sir Ice of EWIT Moutaineering Group
With eyes set on the horizon, we were all anxious as to when we'll set foot on land. We were busy counting flying fishes on the sides when a small mound of land emerged in the horizon. This made every little nerve in me jump for joy. Finally, after months of planning and waiting, Kalanggaman Island is just an arms length away, well, almost.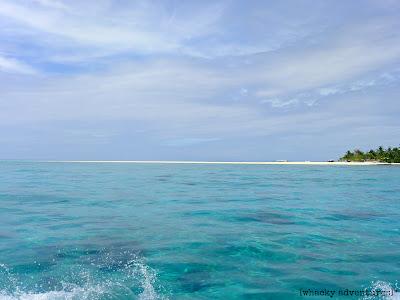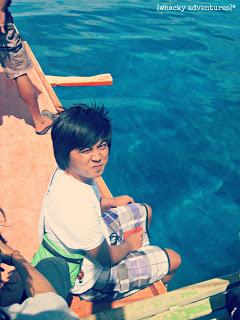 fighting the urge not to jump.
A few meters away from land and something in me keeps pushing me to dive on that clear water. The turquoise water is so inviting that I hurriedly positioned myself on on the tip to get a better look. The wide stretch of white sands glimmering against the radiant beam from the sun; I couldn't help but project my widest yahoo messenger smile.
Lo and behold, Kalanggaman Island. At last!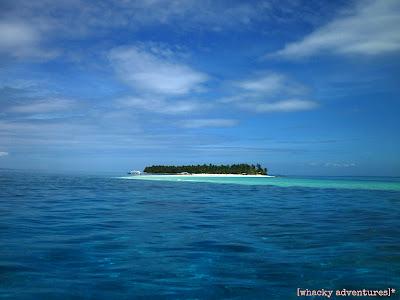 Finally!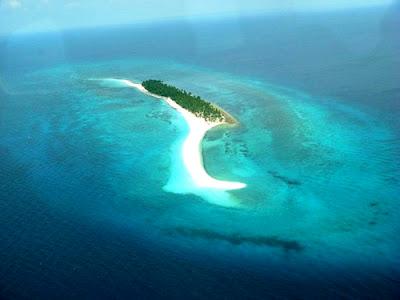 I didn't actually fly over the island. [I hope I did.] :] found this online.
Kalanggaman or Calanggaman Island, it doesn't really matter. Both names pertain to one single island.
Whacky Trivia: Langgam is bisaya for Bird. Kalanggaman means place where there are birds.
Probably that's where the island got its name. It's a bird-shaped island located between Cebu and Leyte. It's part of Palompon, Leyte but you can get there from Cebu. If you google it, you'd be surprise with how many hits this island gem has.
I believe there are no permanent residents on the island, except for the caretakers. But I later found out that this was one of the usual stopover for fishermen scouring the seas for some fresh catch. It's also where migratory birds take refuge from harsh conditions before proceeding in their flight plan.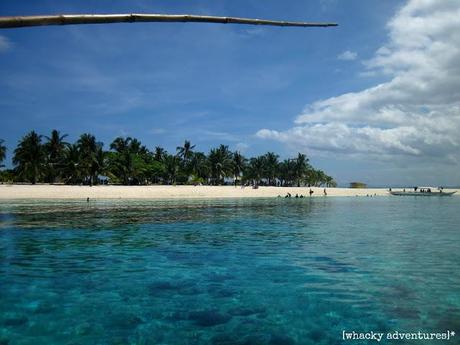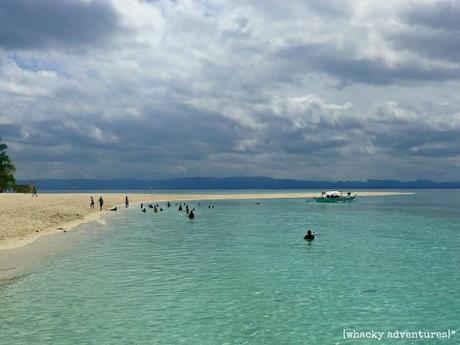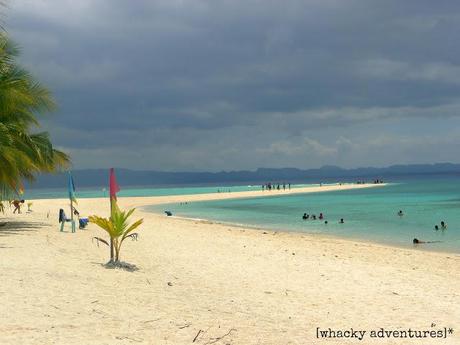 Like wings of a bird, Kalanggaman Island has white sand bars from each end. I noticed a contradicting wave movement on each side - one side, calm and steady; while the other, rough and energetic much like Isla Manoc. I tried to snorkel around but was not able to find lush greens underwater. All I found were sand dollars, white fishes and fast-moving white sea urchins-like bottom feeders. I probably have to paddle farther to get a better view.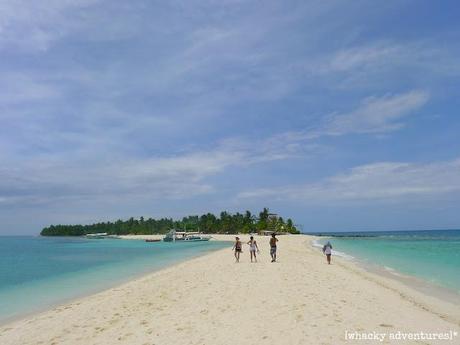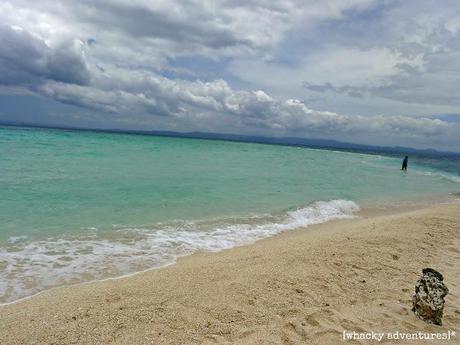 facing the rougher waters.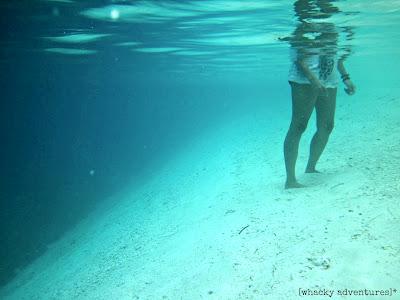 silent but deadly still waters.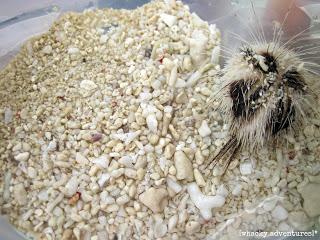 that fast-moving sea urchin. IDK the name.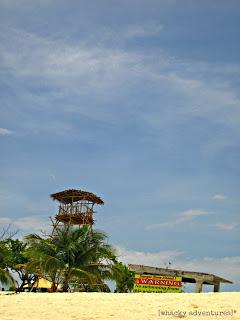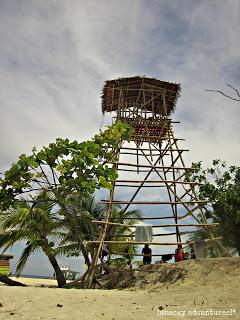 There was 2 signs prohibiting visitors to swim beyond that marker. But we noticed that a lot of tourists swam beyond the boundary. To be safe, we asked permission from the caretaker and got a 'go' signal as long as we be very careful. :]
mandatory jumpshot # 1.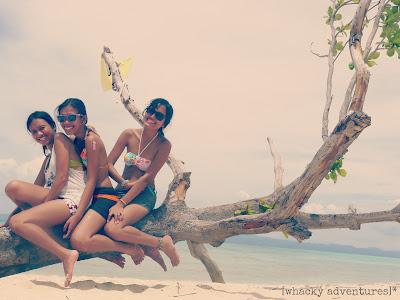 ..hanging around under the summer heat.
We tried to circumnavigate the island foot and took us about 15 minutes. I noticed that one side of the island facing Cebu has slabs of rocks squattered. This was also the side where waves are a bit rough. The other side facing Leyte has a long stretch of  white sand beach-break but has a small rocky portion.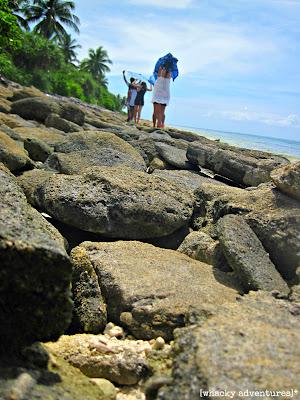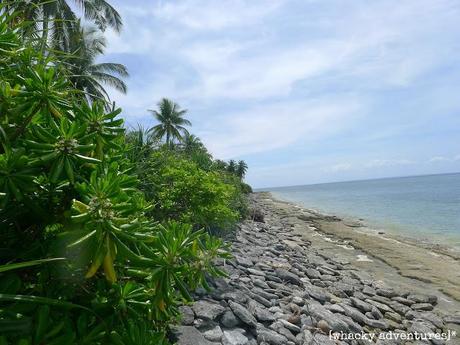 ..the opposite side of the docking area.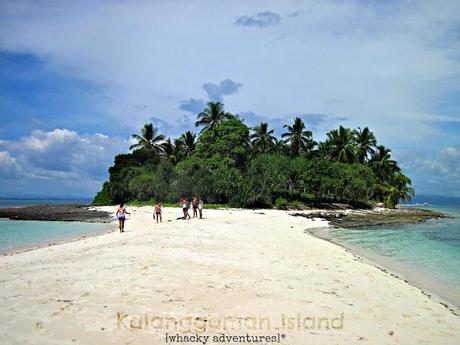 another sand bar.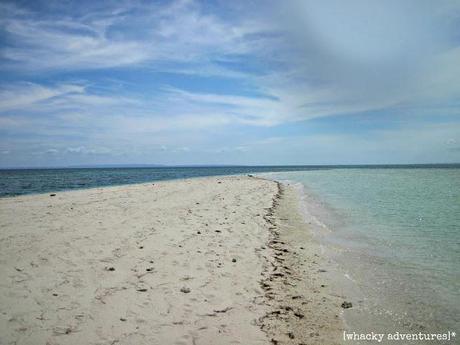 Went back to our station through a beaten path.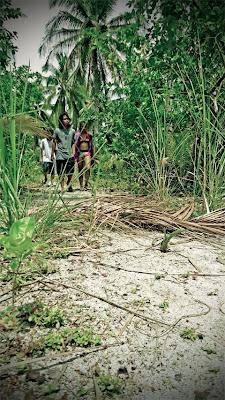 Found this odd-looking kind of fruit. Not even sure if they're edible.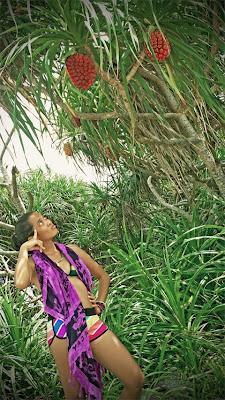 thinking. scheming..
I was surprised to see many outrigger boats from Palompon and neighboring islands docked on shore. I thought part of the island's beauty is its isolation. But then again, it is summer so I can't expect students and families not to be here. It was just disheartening how some tourist neglect their responsibility to keep the place clean from human waste. I'm not talking about turd, just to be clear.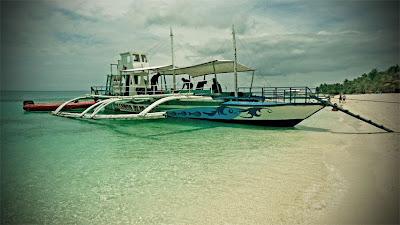 3:30PM. It was time to leave the island. We need to get back to the mainland as some of us are going back to the city that same day. Seeing Kalanggaman Island in the distance made me realize how lucky we are to have a lot of island bounties. Bid the bird island goodbye with a promise of my return. Next time with my beach bum friends.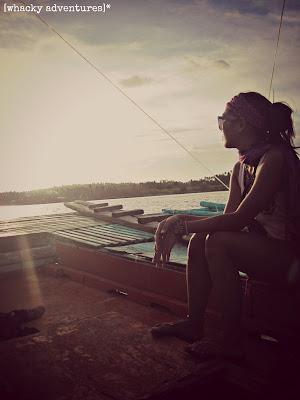 But the trip didn't end there! I did mention something about Malapascua Island, right?
Whacky Thoughts:
I suggest stacking on some supplies and camp overnight on the island to experience the sunset. Let me know how it went. Ayt? :]
Uber thank you to:
Osang
and
EWIT Mountaineering Group
for squeezing us in your boat arrangements. :]
Jammylat
for her snaps and Sir Ice of EWIT for some pic grabs.
Whacky Notes:
Cala-Kalanggaman Island Hullabaloo
Geting to Kalanggaman Island.

*******