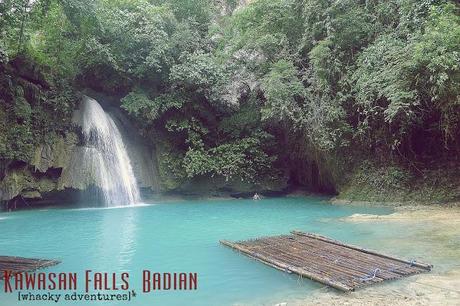 First of the multi-level (series of) Kawasan Falls, Badian has.
Badian, Cebu houses the most famous Kawasan Falls, a series of water drop. The multi-level Kawasan Falls is also considered the most popular tourist destination in the province. It is located about 97.6 km southwest of Cebu City.

A well-loved attraction by both foreign and local tourists, the majestic Kawasan Falls offer a refreshing quench on a hot summer. The trek to the falls itself is a treat as one can see the (Kawasan or Matutinao) river system and lush greens along the way. A quick dip on its cool water or a good book read over the gushing water in the background are just among a few of the things one can do.
Kawasan Falls has been a favorite of mountaineers/trekkers after a long  inter-province traverse trek from Osmeña Peak, Dalaguete. It served as an impeccable ending after a very challenging ordeal. Although the spot has been overly commercialized, what with all the man-made structures would find there, it has been a part of local's advocacy to keep it as immaculate as they could.
This image is a part of the 'Whacky Photo series' where I highlight the images of landmarks that we used to collect or see on posters.