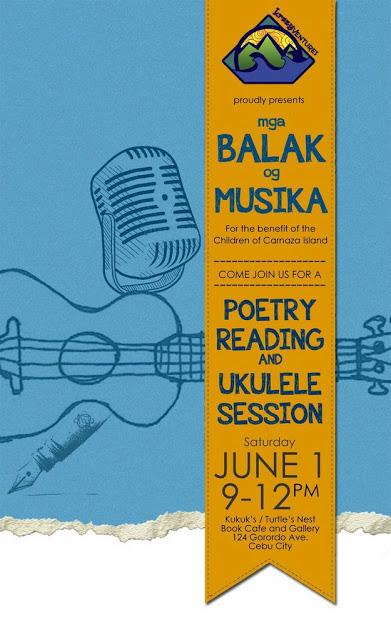 'Mga Balak ug Musika' is a get-together of music lovers, word players, and artists to celebrate the gift of music and creativity. It is a night not only produced to raise awareness and support for the children of remote islands, but also to gather educational supplies which will be beneficial to these young learners. It aims to gather in-kind support which will be used to jump start their future as the school year opens.
This event is a celebration of creativity and passion for the arts with one goal - gather donations for the beneficiaries;
 for the benefit of the children at Carnaza Island, Daanbantayan, Cebu City.
Krazy Ventures
recognizes this opportunity for us, as fortunate individuals, to become an outlet for change; thus, the birth of 'Mga Balak ug Musika'.
Whacky Adventures* support this event. See you there!
ABSOLUTELY NO ENTRANCE FEE. JUST BRING SCHOOL SUPPLY DONATIONS FOR THE KIDS.
For more information, please contact Niiru (09334183221) and Osang (09329343164)
For UpdateS, visit the event page -- 
https://www.facebook.com/events/537131572994586/542181725822904