My mother loves chocolate cake, but that dessert is an endangered species. Nowadays every "chocolate cake" on a restaurant menu is that dense, flourless "death by chocolate" stuff, and she likes classic chocolate cake. So, I make her one for her birthday, because I'm a tremendous, award-winning daughter.
Now while I'm a pretty good cook, baking requires attention to detail and that is not my strong suit. Something always goes wrong. This time I made the icing using flour instead of powdered sugar (long story) and had to throw it out and start over… and then, after giving up on the second tier of my three tier cake, I asked my husband Mike to remove the cake that was in the oven when the timer went off and hopped in the car to take Mom 1/3 of a cake.
I was barely halfway to Mom's house when the kitchen filled with smoke and Mike sent me this video.
Whoops.  Not sure what that banging noise is in the background. I think probably him hitting his head against the wall.
The dog was standing by the door waiting to be let out like he does whenever he thinks we're all about to die. Loyalty. Riiight.
---
Winner of the Name My New Leading Lady Contest
Hundreds of entries and hundreds of names! A few I'm pretty sure were jokes, but I won't say which for fear the people who sent them to me actually named their kids those names.  Ultimately, I narrowed it down to these:
Isobel (But it was my MOM who submitted it, so that's awkward…)
Rowan
Catriona (Cat)
Lily
Esme
Aubrey
Funny thing was I'd already written 3/4ths of the book with the character named Lily… but it just wasn't ultimately working for me. So the winner is…
Catriona!
It's a Scottish name which may come in handy, too.
Several people submitted it: Cathy Ojavo, JoAnne Weiss & Jean Patton – so each of you can brag you named my character AND I'll send you a free copy of the book when it is available (in about a month). Congrats and thank you!
---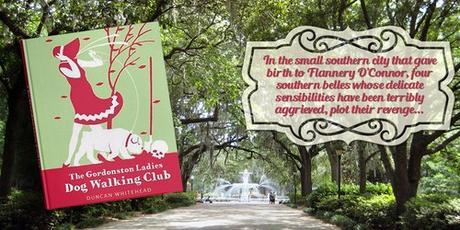 In other news, my friend Duncan Whitehead just discovered his publisher reduced the price of his best-selling series for a limited time if you'd like to pick it up!
THE GORDONSTON LADIES DOG WALKING CLUB
$1.99 US & 99 PENCE UK!
Winner of the 2013 International Book Award and Worldwide Bestseller
Little is what it seems to be in a leafy Savannah neighborhood as members of an afternoon cocktail and dog walking club mourn a neighbor's death. Jealousies surface when friends vie for the widower running for mayor. An old woman with an infamous uncle plots to avenge a wrong. Memories haunt a once successful children's writer. And a model has won the trip of a lifetime.
But a killer lurks and secrets unfold, as does a web of deceit. Is anyone really who he or she seems to be? A mysterious South American, a young Italian count, and a charitable nephew add suspicion and intrigue, as do a secret organization linked to organized crime, a handsome firefighter, and three widows with hidden agendas. What's a retired accountant's secret, and why did a former showgirl really have plastic surgery?
The plot thickens, the Georgia temperature rises, and someone is destined for an early unmarked grave. The truth contorts to a climax that leaves readers breathless.  GET IT ON AMAZON
---
And finally (whew…) the weekly contest over at my AuthorsXP.com web site. Happy Halloween!
Win Up To 20+ Halloweeny eBooks!
(2) Grand Prize Kindle "Gift Baskets" of ALL eBooks! (20+) Winners of Individual eBooks (randomly selected titles) October 24-31.