I'm sure you have already heard about these little cuties, or maybe you have seen the Cake Pops book by the incredibly talented 
Bakerella
, but I am loving me some cake pops!  They are simply just balls of cake and frosting on a stick, but they are oh-so-cute and the decoration possibilities are endless.  My sweet friend Kaylee made them for her little sister's 18th birthday and decorated them in her high school's colors.  So cute!  These little treats are such a fun alternative to cupcakes or candy and can be served at basically any event.  Nom nom nom!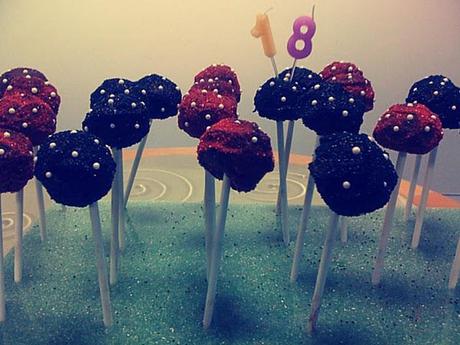 Forever Lovely
You can find a tutorial on how to make them 
here
.  Kaylee wanted to decorate her cake pops without setting them on a flat surface so that the decorations didn't get messed up.  She bought a block of florist's foam and lolli pop sticks at Michael's and used this system to hold the cake pops up.  So smart! She decorated them with black, red and pearl sprinkles.  Check out 
Bakerella
 for more awesome cake pop decoration ideas.
Have a great weekend everyone!