Hi everyone, Gulliver here, reporting from Natchez on the Mississippi River, in Mississippi. Jamie and Pam are having a bit of a break here, just poking around this historic town and readying themselves for a week in New Orleans.
While, like you, I've been reading their blog daily and have enjoyed their postings on the food, music and culture of the US, I have to be honest with you and say they have missed out on telling you all about the best bits (well, in my opinion). I mean the houses. They're terrific here. Well worth standing in front of, spending endless hours just admiring the garden and lawn. It's what we gnomes like to do, and do best. And so here's my tour of assorted Louisiana houses (and sometimes you might even spot me doing what I love best: standing in front of houses).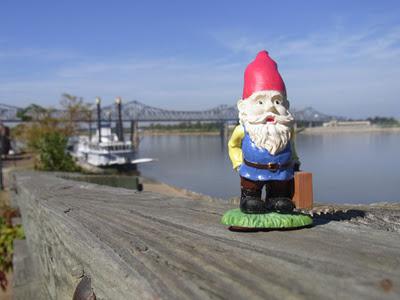 As I mentioned earlier, we're at Natchez, on the Mississippi. I think the boat is just a tourist prop: it hasn't moved since we arrived.
To kick off our tour of Louisiana houses, Jamie has done another one of his little pan shots, taken at a 're-created historic village' in Lafayette. The good thing about this village is that all the houses are the real deal, dismantled at their original sites, plank by plank, then re-erected at the village. There's about a dozen buildings here, the oldest is from the 1820s, and if you ask me, the whole setting is a bit cute, but the houses are fascinating. But I'll let Jamie do his pan shot thing now, and then I'll show you some photos.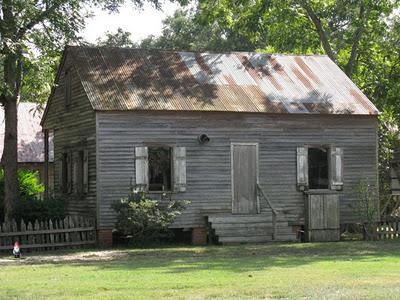 I really like this old house at the Acadian village, well worth standing in front of.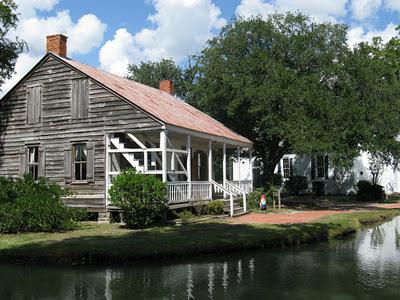 This one at the Acadian Village, with the water views, must be worth a fortune.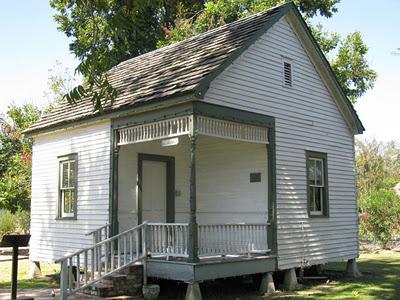 In another town in Acadiana, Opelousas, they've done the same 'historic village' thing with genuine old houses. This is the original doctor's house in Opelousas, where patients came to visit for well over 100 years (no, the doctor wasn't that old, it was a tag-team father-and-son thing).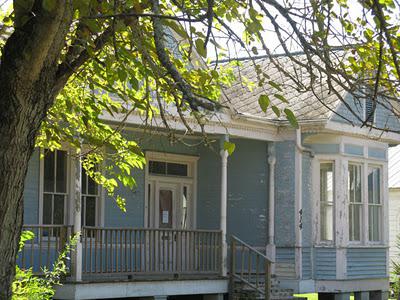 The nice thing about these old historic houses is that they haven't overly 'tarted them up'. They proudly show off their signs of age.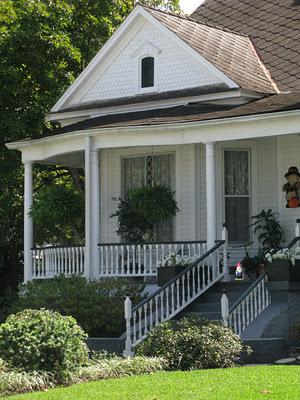 Now, let's move onto houses outside the historic villages, the ones in the various towns of the district. Here's a smattering of some of the best photos taken by Pam.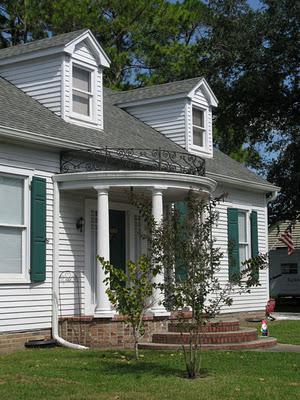 Those young trees are the super popular crepe myrtles, which are everywhere here.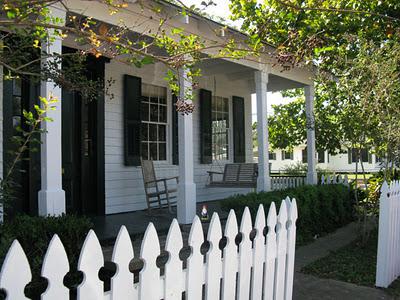 All the paint shops must have big, big stocks of white paint. It's the best seller.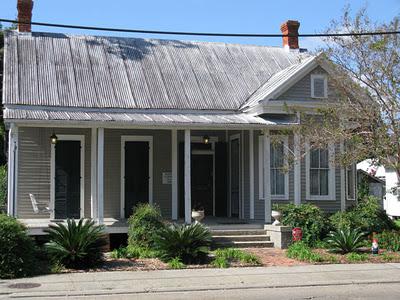 One plant which really thrives in this area is the cycad known as the Japanese sago palm. Haven't seen a a sick one yet, all are very lush, green and healthy.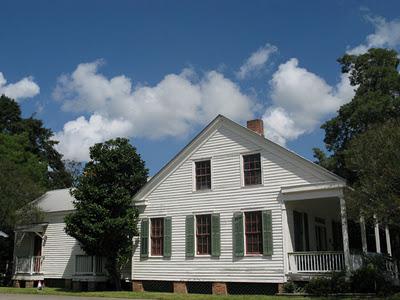 Nice shutters.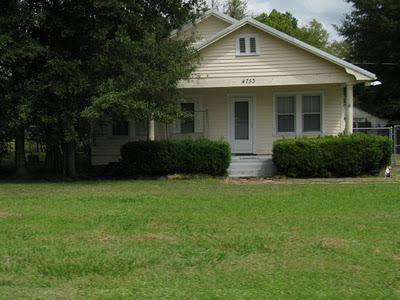 Even the humblest houses are fronted with a huge lawn. This area is the home of the ride-on mower.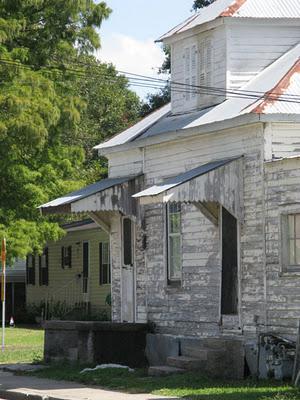 Not all houses are crisply painted in white, with neatly trimmed hedges. There's a lot of shabby chic in the region, too.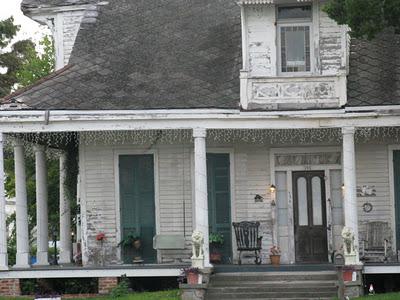 Rocking chairs and porches, we've seen a few thousand around here.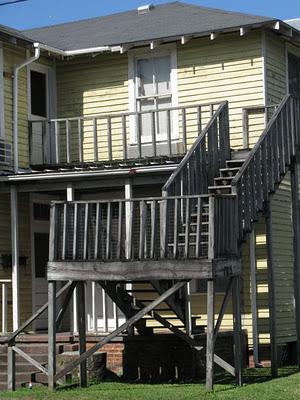 I should get danger money standing under this old joint in New Iberia. One good strong gust of wind, or the next hurricane, and whammo!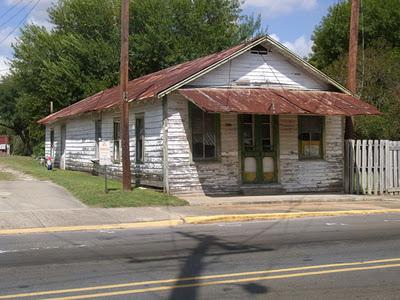 Where would you start with this old place at Breaux Bridge? I know.... leave it alone, it's lovely!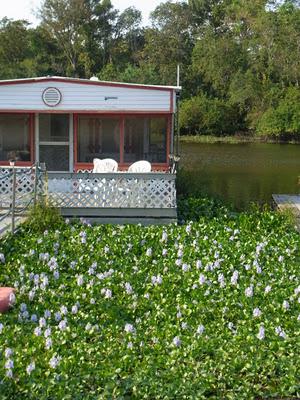 You won't find me in this photo, because I'd drown if I tried to stand there. This is a house boat, and the greenery is a tangle of the bayou's prettiest and most aggressive weed, the hyacinths.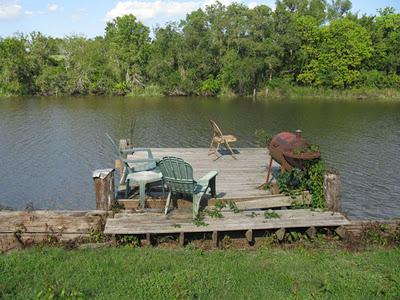 And I'm not here, either, but this wonderful little landing next to a very, very modest shack by the bayou proves that it's not the house, it's the lifestyle that really matters sometimes. Drop a line, sit back and hope the fish don't wake you.
And so that concludes my update on the best bits. Jamie has done another pan shot from the banks of the Mississippi, but he has asked me to correct one misleading impression he created in the commentary. He thought the riverboats took tourists on trips to plantations, but this one doesn't (it must be another town where that happens). Clearly the boy needs a rest. The next time you'll hear from him will be New Orleans, where his bon temps will no doubt be rouleting along once more.
Cheerio! Gulliver.