Cafe Art Science is the newest addition to Kendall Square's dining scene, and unlike anything this city has ever seen! The idea came from Harvard inventor David Edwards, who has been mixing science and food for years to create dishes such as breathable chocolates and pods of frozen yogurt wrapped in an edible skin. In 2007 he moved to Paris to open Le Laboratoire, a laboratory / design studio that mixes art and science.  
   Cafe Art Science is part of Le Laboratoire Cambridge, which (in addition to the restaurant) includes a museum and gallery space for public lectures from poets, scientists, and visiting chefs, and cultural exhibitions. The first exhibition, Vocal Vibrations also debuted this last week and featured, MIT Media Lab's Tod Machover, an innovative composer, and Neri Oxman, a 3D-printing and environmental-design specialist.
   The restaurant itself brings together some big names in the Boston industry, including Todd Maul, former bar manager of Clio; Tom Mastricola, who helped open No. 9 Park and former general manager of Clio and Commonwealth; and Patrick Campbell, former chef de cuisine at No. 9 Park and executive chef at Eastern Standard.
   The food is a fusion of high end French and American technique, with a bit of art and science mixed in. If you dine in the bar you can sip a vapor cocktail, after watching it float in the air. As cool as this sounds, for my first visit the fiance and I opted to sit in the main dining room and order a multi-course meal so that we could try most of the opening menu.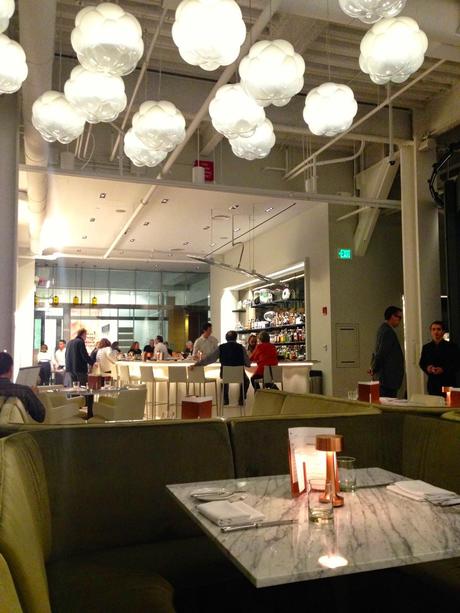 We started with a tuna crudo topped with jalepenos, spicy cream, cucumber, and crumbled cashews. The tuna was excellent, and I loved the combination of the spice and the crunch.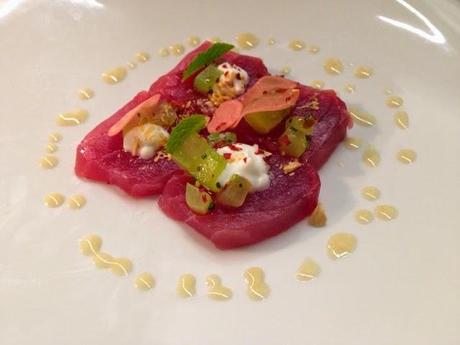 Next was the beef carpaccio with Canadian lobster and XO sauce. The sauce had some toasted garlic in it, which was delicious with the beef. The addition of lobster made this dish even better!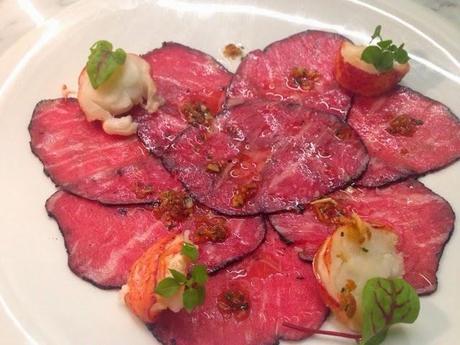 For a third course, I had the poached farm egg with seasonal mushrooms, fois gras vinaigrette, and crispy chicken skin. This was definitely my favorite dish of the night, the egg was cooked perfectly, and I loved the flavors of the fois gras and crispy chicken skin.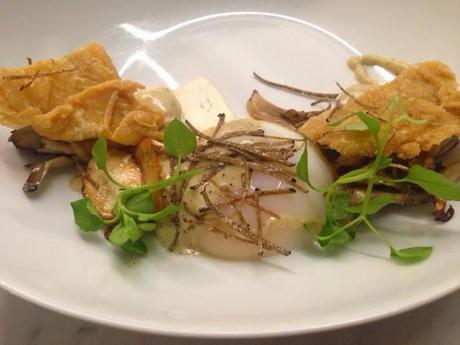 The fiance also enjoyed his cauliflower veloute with sea urchin, lobster oil, and curry salt.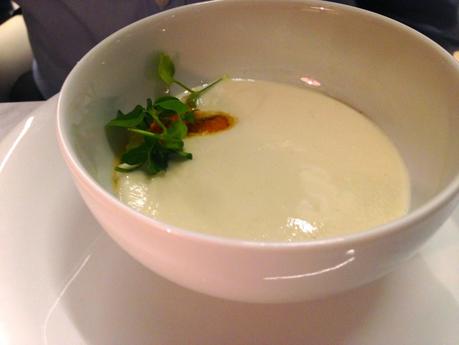 I ordered the Berkshire pork belly as my main course, which came with sweet potato agnolotti and truffled escargot. The pork was done really well, and was different from other pork belly I've had in a couple of ways. The fat cap was there, but not quite as noticeable as it often is because the whole thing had this great seared flavor and texture.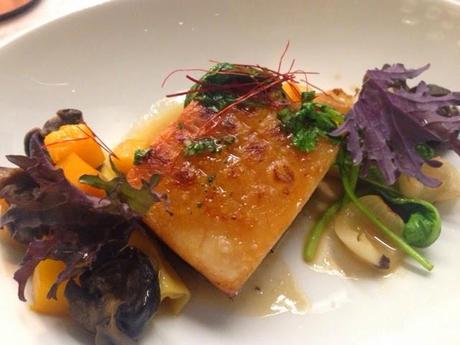 The fiance's potato crusted tautog with roasted brussels sprouts looked amazing.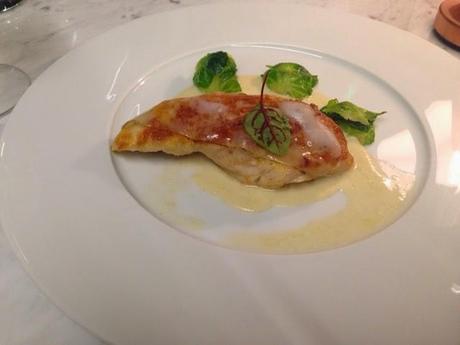 For dessert we shared the cherry wood old fashioned: a warm maraschino financier with cherry wood bourbon gelee, and burnt orange meringue. This was one of the most impressive desserts I've ever had, the cake was the perfect texture and all of the flavors really did taste like an old fashioned cocktail.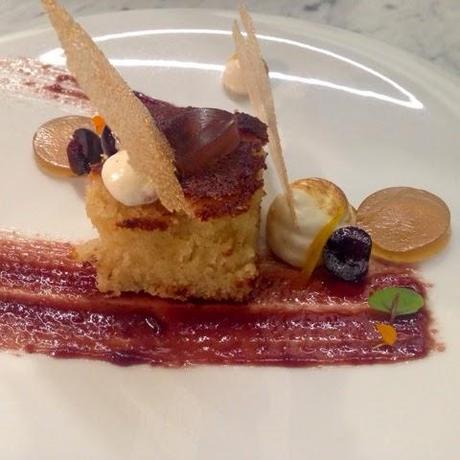 At our server's recommendation, we paired the dessert with its namesake cocktail: the burnt cherry wood old fashioned made with a house blend of bourbons, charred cherry and orange, and demerara sugar. It was really cool to see how the two compared, and how the similar flavors were incorporated in different ways.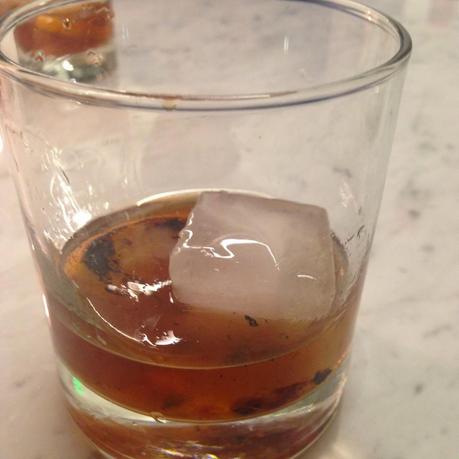 Cafe Art Science definitely fits in with the neighborhood so close to MIT and all of Cambridge's tech companies. I can't wait to go back and check out some of the cool vapor drinks and effects at the bar, and see some of the exhibits in the museum / gallery.