Why You Should Buy an Engagement Ring Online
There are so many benefits when you buy an engagement ring online. Competitive prices, wide range of selection, access to unique or hard to find rings, antique and vintage engagement rings are just a few of them. You also have access to information about the rings and diamonds provided in an easy to understand, detailed listing, making it easier to keep track of those 4 C's. However, with so many options comes a dilemma: how to choose the right online jeweler to purchase your engagement ring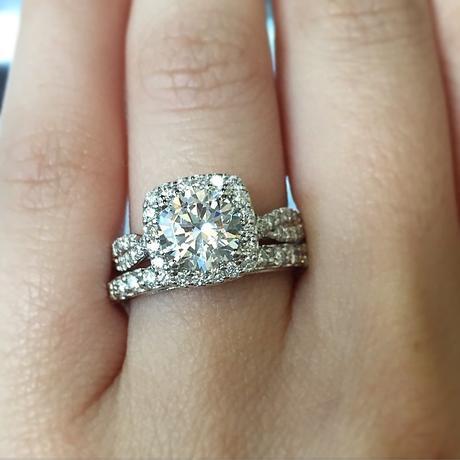 via Engagement Ring Gurus
We've talked before about how to choose a reputable online jeweler, but once you've found a few options of online retailers you trust, there's one more big decision to make: Corporation or Independently owned? There are benefits to both, but shopping with an independent jeweler has the advantage in my book. Here's why:
You can save more money
Your customer service experience is much more personalized
I'm biased!
Save Money – Because online prices are so transparent, retailers compete with each other to provide our customers with the best deal. However, an independent jeweler will have greater flexibility in discounting the final price. The independent jeweler is in complete control of its inventory, and sets the price on each diamond or ring themselves, giving them the ability to work with you on pricing and financing options.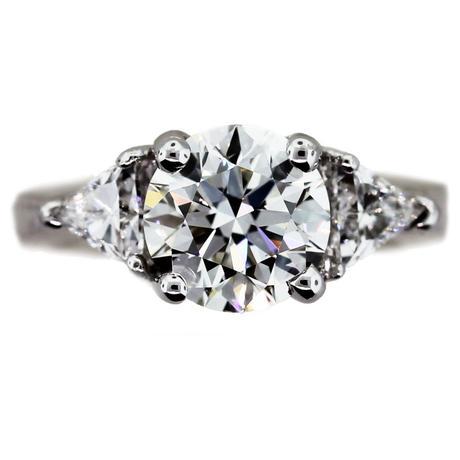 18K White Gold and Diamond Engagement Ring 1.69ct Round Brilliant Cut with GIA Report
Customer Service – When you do call your chosen jeweler to discuss options for buying and customizing your engagement ring, an independent jeweler has the clear upper hand. Whereas major online retailers often refer calls to representatives at a call center, or with general knowledge about rings and diamonds, an independent jeweler will have a dedicated representative to communicate with. For instance, RLJ's e-commerce team handles all online transactions from inception to completion. Those transactions begin with them selecting exactly what rings will go on our online showroom's website, so before you ever lay eyes on the perfect engagement ring, it's been thoroughly vetted by an expert GIA graduate gemologist, a team of experts, and, TBH, at least 5 women with an engagement ring obsession. Should you have any questions that aren't answered by the detailed product description online, they're a phone call away, ready to answer your specific questions about the specific ring you have in mind. Once you're ready to (deep breath!) buy the perfect engagement ring, they'll be your point of contact through every step of the way. With an independent jeweler, the same representative (or gemologist) will guide you through the entire process, from "I'll take it!" to "I do."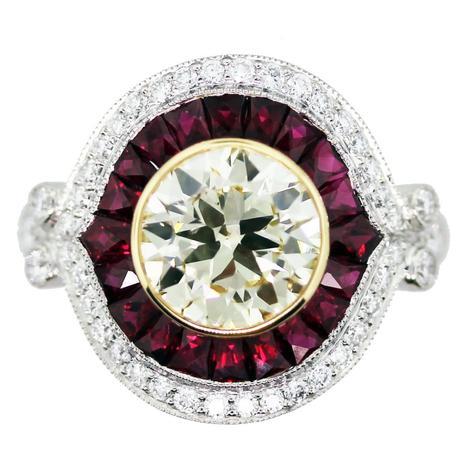 Art Deco Style Engagement Ring 2 Carat Light Yellow with Rubies and Diamonds
Yep, I'm Biased – Full disclosure: I work for an independent online retailer. Our president & owner sets our prices. Our financing options are determined in-house. Our sales staff have intimate knowledge of each and every diamond engagement ring in our Boca Raton showroom and in our online store. We care about your story, your proposal, and finding your perfect engagement ring. This level of personal attention to our customers' needs is partially due to Raymond Lee's independent status. The rest of it is owed to our ownership's unwavering belief in making every customer happy. It's why we do what we do, it's why our diamond engagement rings are such a great deal, and it's why we work hard as a small local business to provide options for every customer online, regardless of their location.
There are tons of options for purchasing your ideal engagement ring, and web retailers that sell engagement rings are a fantastic evolution of the jewelry business. With so many reputable sellers of beautiful diamond rings, the choice can be difficult, but ultimately, we feel that an independent retailer is always the way to go.