Welcome to the neighborhood! After living in the west village for nearly 8 years, I do take it personally when a wonderfully warm culinary establishment moves right in. In a neighborhood where restaurants are constantly coming and going, I feel it has become my duty to greet a lucky few with open arms. The minute I walked into Buvette, my arms immediately extended. It's hard for me not to love a restaurant where a chalk-drawn map of France (and Italy) takes over its main wall and the name alone (the french word for

refreshm

ent

) reminds me of the very reason I have a life outside of my apartment and office. This place already has a buzz in the air - and while it may definitely be coming from the wine, coffee, and even the food, the people have much to do with it too.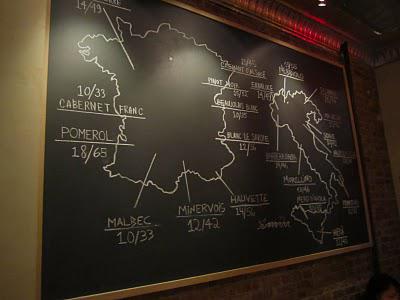 The owners are both friendly and hard at work. The minute you walk in, they make you feel as though you have personally been invited to dine with them - even on the busiest of nights. Buvette is tucked away on Grove street in the former home of the Pink Tea Cup, a soul food spot that never quite lived up to its prime location. It's the kind of place that nearly every one can find a reason to stop by. After all, who doesn't need or simply want refreshments in their life? And with both its (soon to be offered) early morning and late night hours, it's up to you whether you want to stop by for coffee or wine - or perhaps even both. The good news is that Buvette recognizes that every great refreshment should be accompanied by delicious food - offering an assortment of small plates to quench your every desire.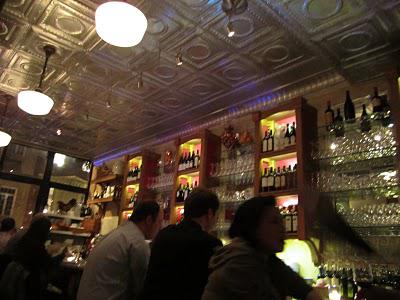 The menu is made up of a selection of tartines (open face toasts), fromagerie and charcuterie. However, in addition to these standard offerings, there are nightly specials that fall under the fish, meat, and vegetable categories. These are all small plates, although they are very generously sized as well as generously priced. The only trouble we ran into was fitting everything onto our table - these actually go with the small size theme. However, this meant we were able to take our time enjoying each plate as they were presented to us. Unlike many tapas restaurants, we never had to look at our entire meal in one glance.
I highly recommend the hazelnut pesto with parmesan and orange zest tartine. The citrus and cheese combination was an excellent addition to the hearty spread. I am eager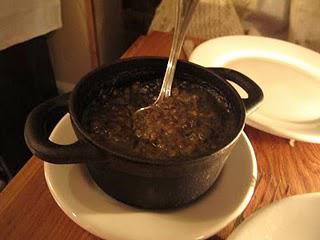 to return and try the other tartines as this one was divine. If the kale and lentils are a nightly special, I urge you to order it. Served in an adorable mini cast iron cassoulet, the lentils are cooked with black kale and shallots in a balsamic sauce. A second cast iron dish full of pork arrived as an excellent complime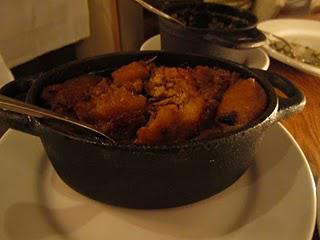 nt to the flavorful vegetarian option. The pork was braised perfectly with apples and calvados creating a savory and sweet taste in the tender meat. There wasn't a dish that left that kitchen that my eyes didn't follow as each and every was so appealing in both presentation and smell. Apologies to my dinner date - although thankfully, she was on the very same page as me. And that's what lead us directly to dessert. There was just no way around ordering the chocolate mousse and I can confirm that our eyes did not deceive us on that front.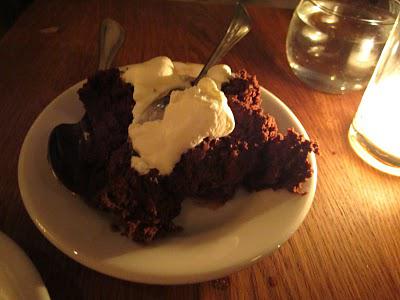 I am just relieved I made it there before Lent as I am now off of sweets for the next 40 (now 35!) days. But that certainly will not keep me away from a stop off at Buvette in the near future. It does mean that on my next trip I'll have to keep my focus on my own little table which is probably just good news for my dining companion. And now I've got a legitimate reason to close out my next meal with another savory tartine (something I was tempted to do anyways)! With that kind of modification, Lent may not be quite as tough as it seems.


Buvette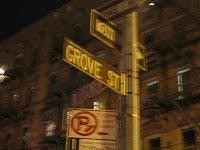 42 Grove Street
New York, NY 10014
(212) 255-3590
website


FOOD RATING (Out of 5):