I was reminded this week of a wonderful recipe that I found last year online
here.
If you havent tried this before, now's the time! This is so good!!!
SUPER CHEESY BUTTERNUT SQUASH MACARONI & CHEESE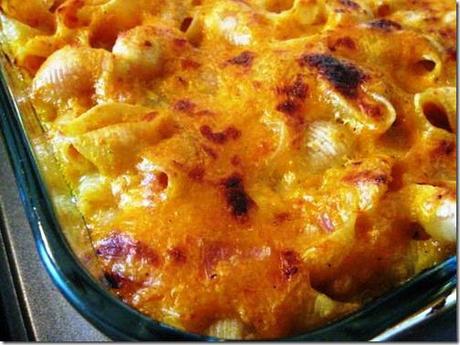 INGREDIENTS
2 lb butternut squash, about 2 cups, cooked
1 tbsp olive oil
12 oz pasta shells
1 tbsp butter
1 small onion, diced
1/2 tsp freshly ground black pepper
1 tbsp flour
1 cup 1 % milk
16 ounces reduced fat sharp cheddar cheese
INSTRUCTIONS
1. Preheat oven to 400F and spray a 9 x 13 dish with nonstick cooking spray. Cut squash in half, lengthwise, remove seeds and both sides with olive oil. Place cut-side down on a baking sheet and roast for 60 minutes or until completely cooked and soft. Scoop out flesh while still warm and mash with a spoon or potato masher. Timing-wise, finish the squash roughly the same time the pasta and the sauce is cooked so that it's still warm.
2. Prepare the pasta during the last half hour of roasting according to the packaged directions being sure to salt the water.
3. In a saucepan, melt the butter on MEDIUM LOW heat. Cook until the onion is softened, about 3-4 minutes. Stir in the black pepper and flour cooking for 1 minute.
4. Slowly add the milk 1 tablespoon at a time, incorporating each tablespoon well before adding another. (If you add it all at once, or without working in each time, there's risk of ending up with a lumpy sauce.) Stirring often, let the sauce come almost to the boiling point, it will thicken slightly. Add the cheese and let melt, adjusting temperature so that the sauce won't boil. (It's not a disaster if it does, since it's going into the casserole, but it'll look curdled.)
5. In a large bowl, combine the mashed squash, pasta and cheese sauce until mixed. Transfer to a greased baking dish. Bake at 350F for 30 minutes until hot and bubbly throughout. To add color to the top, place under the broiler for 2 – 3 minutes, watching carefully so not to burn. Cool slightly and cut into 6 squares
Makes 6 LARGE squares for 11 points+ each or 8 squares for 8 points+ each
NOTE: For a 'less squashy' and more 'mac 'n' cheese' version, use half the roasted squash in this dish, reserving the other half for something else.
Nutritional information per serving, calculated using caloriecount.com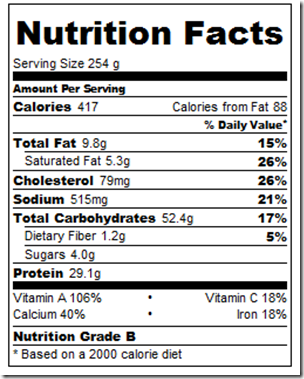 And if you're not reading
Danica's Daily,
I highly recommend it! A fun, enjoyable read, full of great tips and recipes!