My low fat fettucini recipe and post is in the works. In the meantime, I'd like to share with you one of my newest Quinoa dishes. I wrote this Butternut Quinoa and Broccoli up on Livestrong.com but thought it'd make a great dish to blog on as well.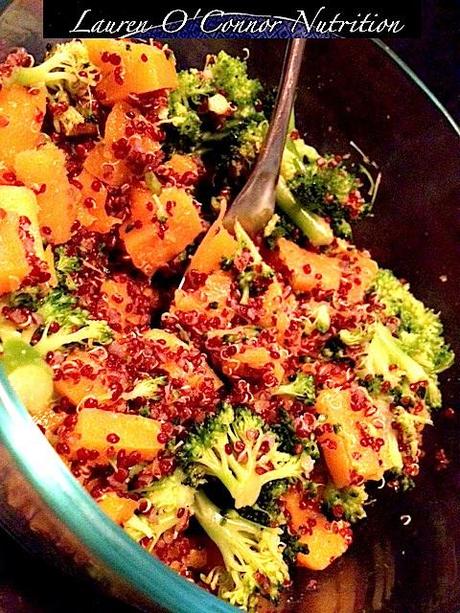 This yummy vegan dish has got a lot of veggies, a balance of seasoning and the amazing whole grain QUINOA — making it full of texture and flavor! Whether you choose to make it a main meal or serve it up as a side, you've got a well-balanced nutrient-dense dish. Remember, quinoa is an amazing powerhouse of nutrients, including all nine essential amino acids, making it a complete protein. So save this one for Meatless Mondays!
Serves 6 (As a Main Dish):
1 cup dried quinoa (I used red for more color)
2 cups low fat chicken broth
1-2 Tablespoons of Olive Oil
1 tsp brown sugar (to balance out the flavors)
1 clove of garlic, minced (or a few shakes of garlic powder0
2-3 cups of broccoli
3 cups of butternut squash
2 Tablespoons (1 oz) of walnut halves, toasted (0ptional – but a great addition)
Cook quinoa using chicken broth: 1 cup dried quinoa per 2 cups broth. Set aside. In a large pan heat 1-2 Tablespoons of olive oil. Add minced garlic and brown sugar and then toss in squash – coat well. Cook covered over low heat until softened. Mix cooked quinoa with squash mixture and steamed broccoli. Toss with toasted walnut halves.
Enjoy!
Nutritional Info: Cal 262, Fat 11g, Chol 1.6mg, Sodium 311mg, Carbs 36g, Sugar 6g, Protein 8g
Read more: http://www.livestrong.com/recipes/butternut-quinoa-spinach/#ixzz2sUulBLNo
Filed under: diet, healthy lifestyles, Nutri-Savvy, nutrition, Recipes, Simple Meals