Recipe Number One Hundred & Twenty Four:  Page 118.
I have such fond childhood memories of making and eating butterfly cakes. I think they were and still are a staple cake for children's parties and a wonderful thing to bake with little ones. Baking is definitely not one of my mother's favorite pastimes but that doesn't mean she didn't bring out a mixing bowl and wooden spoon when my sister and I were small. I can still remember having great fun making these; I was amazed when my little cake turned into a butterfly! I really think these cakes started me off on my baking obsession. My mom is currently staying with us and I know how much she still loves these little cakes, so I thought I'd take her on a trip down memory lane.
The recipe is very similar to Mary's Victoria Sandwich cake and so very simple to make. I measured the flour, eggs and butter into a bowl. When I added the sugar a giant lump, big enough to rival a golf ball, fell from the packet and landed with a heavy thud. This amount was far too much. When I carefully tried to remove the oversized sugar lump, it of course fell to bits. It took a while to extract the surplus with a spoon. Once all of the ingredients were included, I used my electric whisk to combine it all together. Mary is quite particular on how long to beat the mixture; she says to keep going for two to three minutes. It did seem a long time but it did indeed take that long before it became smooth and lump free. I can quite imagine her whisking with a stopwatch! I spooned the smooth mixture into the cupcake cases. I love making cupcakes and muffins as I don't have to faff about lining tins! They only needed 15 – 20 minutes in the oven. I very nearly forgot about them as I was too busy yacking to mum!
My little cakes were a little more golden in color than perhaps I would have liked but they looked good and well risen. I had to make the buttercream next; I don't know why I had decided to clean the kitchen the day before making these. It was heartbreaking whisking the butter and icing sugar together and watching it spray all over the once gleaming work surface and floor. It seemed to take ages before the two ingredients combined, or at least it seemed so. The buttercream was so light and fluffy by the time it was ready that it almost melted in the mouth.
I enjoyed slicing the little domed top off each cake and then cutting it in half to form the wings of the butterfly. I piped what I thought to be generous swirls of buttercream onto each cake. I can't have been as generous as I'd thought as I still had nearly half of the buttercream left over. I therefore went round each cake again! I happily popped the wings on top of each cake; I really did feel like I was six years old again. It was a lovely feeling and I can't wait until my little boy can get baking with me in the kitchen.
Once my little butterfly cakes had the obligatory dusting of icing sugar they were ready to be eaten, yippeee! They were of course just as I'd remembered; a light cake with sweet smooth buttercream. Neil thought them very moreish and Mum loved not only the look but the taste. I think they brought memories back for Mum too. This time I didn't have to stand on a chair to reach the worktop or need help with weighing the ingredients. I felt rather proud to pass a cake to my mom and know I'd made it all by myself!!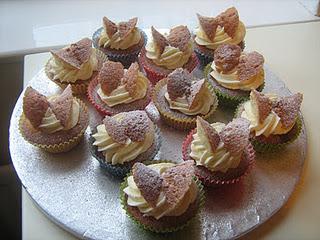 Fluttering butterflies! :-)