butter LONDON New Colour Clash Collection, break away from the ordinary this fall and rock bold, unexpected colours with butter LONDON's latest nail lacquer collection, Colour Clash. Launching today on butterLONDON.com, the Colour Clash Collection is a chic, surprising new collection of brights and whites that are perfectly on-trend to take your look from summer to fall. The collection includes vibrant bright nail lacquers in Wellies, Pimms, Cake Hole, Silly Billy and Giddy Kipper that can add a much-needed pop of color to any look. Ready to rock out in white? Sport a trendy white-nail with Cotton Buds, which can also be used underneath nail art to punch up any color.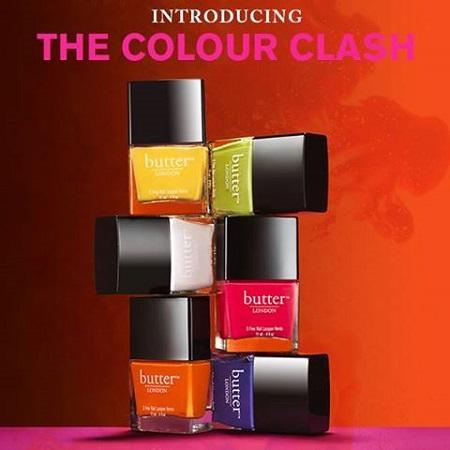 butter LONDON New Colour Clash Collection
butter LONDON's Global Colour Ambassador Katie Hughes notes that the Colour Clash Collection is "one of my favorite collections yet, Colour Clash is so fun and bold." The collection was  inspired by the unexpected color combinations seen on the Fall 2013 catwalks during London Fashion Week.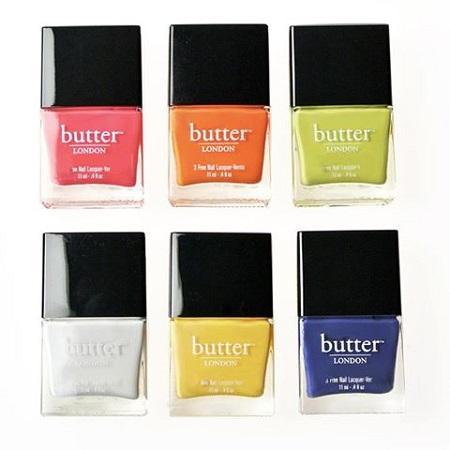 butter LONDON New Colour Clash Collection
Cotton Buds Opaque, pure white cream
A wad of cotton wool fixed to a small stick, used for cleaning.
Pimms Opaque, sun‑flower yellow cream
Gin-based tradition at its finest…this refreshing beverage is almost as popular as English tea.
Giddy Kipper Opaque, indigo shimmer
Refers to someone who is overly excited…like anyone who buys this lacquer will be!
Wellies Opaque, grass green cream
A very popular rain boot, seen often in Britain.
Silly Billy Opaque, fire orange crème
A clown popular at fairs in Britain, and a fab nickname for anyone named William.
Cake Hole Opaque, nearly-neon pink cream
1960s Brit slang referring to one's mouth…and the desire for it to remain closed.
The butter LONDON Colour Clash Collection ($15 each) includes shades Cotton Buds (pure white creme), Pimms (sunflower yellow creme), Giddy Kipper (indigo shimmer), Wellies (light yellow-green creme), Silly Billy (bright orange creme) and Cake-Hole (neon pink creme). What do you think about the whole color clash for fall, go with the clash and wear the brights for fall?
Available: June 27th on butterlondon.com
Price: $15 each