My mom came to visit for a couple days this week. It was good to see her and the kids loved it. She got a little lost when she got here because she hasn't been here before so I went to get her. When we got back to my house I hopped out of the van excited to see my mom and spend some time with her but I stopped short when I heard a hissing sound and looked down to see my rear drivers side tire going flat. I'm just thankful I made it home and didn't break down on the side of the road. Glen put on the donut tire and we loaded up and went to the zoo. My mom was only staying for a day and a half so we wanted to spend the time with her. I did go and get it changed the next morning and it took forever but I'm just relieved that it's done! Adrian was so so upset when he realized that his grandma had gone home. He cried for about an hour and not much I tried would comfort him at all. He seems ok now.
Adrian has been doing good in school. No issues. I'm so happy that his teacher seems so nice and that things are going well…huge relief for me.
The girls have been doing awesome with homeschool. It's so much fun. It's a lot of work to prepare everything but it's a lot of fun too. Here are a couple things we've done:
This is our behavior tracker-green=good behavior, yellow=so so behavior, red= not good behavior: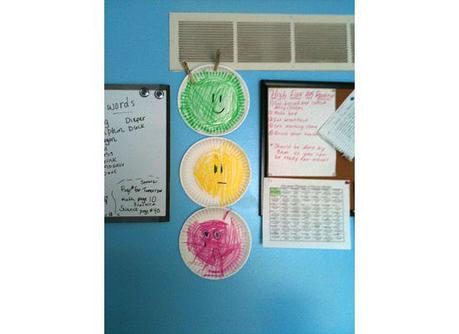 There are clothes pins with their names written on them and you just clip it to the plate that corresponds with the behavior. It's a little babyish for Sanura but she played along since I was going to be using it for Nevaeh. If they stay on green all week then we but something new for art class on Fridays, last week they picked out a bead set to make necklaces.
Yesterday we did a little science project. I took the girls outside and had them think about how birds make nests and how hard they must have to work to do that. Nevaeh has been studying habitats so this was more for her but I figured Sanura would have fun getting her hands dirty too. So the girls made their own bird nest and it is holding up really well: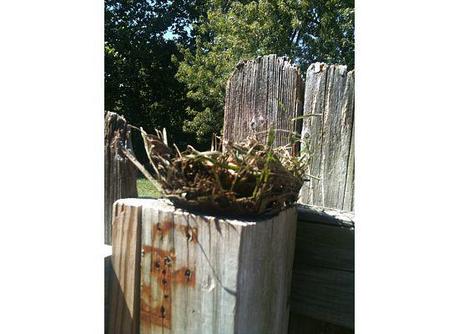 And this is the inside of the nest: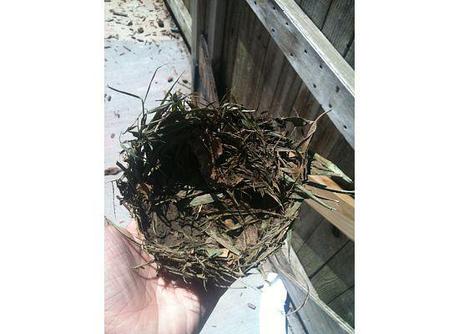 As for Lincoln, I finally have an update. I dropped off his enrollment packet on Tuesday and he's going to be starting school on Monday. I need to take a tour of the school and meet the teacher before I'll let him start. The lady was supposed to call me back and I haven't heard anything. The communication with parents by the office at this school is absolutely rotten. I've never seen anything like it in my life. The good thing is I have only heard good things about the teachers at this school so we will see how it goes. I'm not going to hesitate pulling him out if I'm not comfortable with anything because the experience has not been good at all so far for our family.
There is a program here called parents as teachers and they come to your house monthly to give you ideas on how to work with your kids and hook you up with resources you may need and I had an appointment with the lady from there today. She gave me some names of doctors in the area which I was grateful for because I don't know any and she gave me some handouts about how Lincoln is supposed to be developing at his age. She also played with him some and he was such a good boy while she was here.
So that's my update, there's been so much going on around here lately. I'm looking forward to another busy day tomorrow!