I am so, so, happy that Bushmills is putting out things like this Bushmills Rare Casks 29 Years PX Finish. I'm even happier that they aren't neutering them with low proof and chill-filtering. They're letting the whiskey come out of the cask and speak for itself in its most natural form. And that's awesome.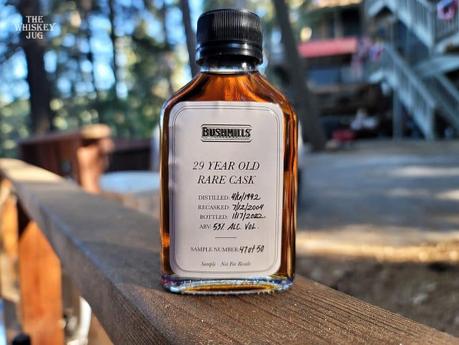 Some of you are going to scream at the price, like I did, but it's the state of the whiskey world we're in. Remember when you could just stroll into a store and grab Weller 12 off the bottom shelf for $22? I certainly do, it was my house whiskey for years. But now…
Let's just get to drinkin'!
---
Bushmills Rare Casks 29 Years PX Finish – Details and Tasting Notes
Whiskey Details
Cask Strength | Non-Chill Filtered | Natural Color
Style: Single Malt (Irish)
Region: Ireland
Distiller: Bushmills
Mash Bill: 100% Malted Barley
Cask: ex-Bourbon, ex-Pedro Ximenez
Age: 29 Years
ABV: 53%
Bottles: 500
Bushmills Rare Casks 29 Years PX Finish Price: $750
Related Whiskey
Bushmills 21 Years
Bushmills 23 Years Crystal Malt Whiskey
Bushmills 28 Years PX Cask Whiskey
Bushmills 25 Years Marsala Cask
Bushmills Sherry Cask Reserve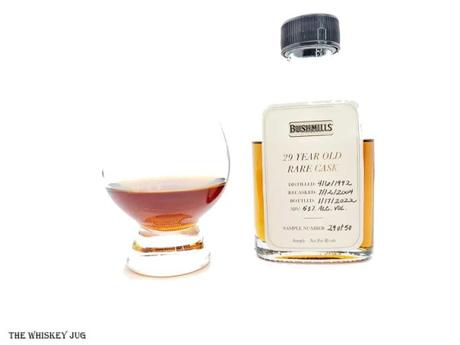 "One of the finest whiskeys ever sealed under the Bushmills name" – Bushmills
Bushmills Rare Casks 29 Years PX Finish Tasting Notes
EYE
Drying blood
NOSE
SHERRY, dried dark fruit, printer's ink, leather, chocolate, roasted malt, copper, oak, and some marmalade sweetness.
Depth… this has a ton of depth and with each sniff, I get a nuanced new note of something new. Baking spice, fig, dates, brown sugar and on and on. It's lovely.
PALATE
Pull all the notes from the aroma over and add a bit more ink, copper, oak, and a bit of tart cherries to it and you end up with a darker, yet fuller, version of the aroma. And it's just a delight to sip.
FINISH
Long -> Dried dark fruit, leather, pastries, oak, copper, baking spice, and blackberries.
BALANCE, BODY and FEEL
Perfectly balanced, round full body, and a soft oily, heavy, feel.
---
Bushmills Rare Casks 29 Years PX Finish – Overall Thoughts and Score
Bushmills is good. Bushmills can be great. This Bushmills is stupendous. It has that deep, old school, rancio darkness to it. That inky, sticky deep, and dark profile of sherried scotches from days gone by. As it opens it even picks up some of those oily/petrol/machine-like notes that would sometimes show up in those old Scotches from the 80s.
Being a member of LAWS I've been able to sip my way through an embarrassment of riches and this reminds me of so many of those funky, complex, brooding sherry bombs I've had in the past. It's a true pleasure to slowly sip my way through this sample. Adding a few drops of water at a time to slowly strip away layers of alcohol and reveal new horizons of flavor and aroma.
SCORE: 5/5 – Superstar (among the best in this style A+ | 100)
*Disclosure: The sample for this Irish Single Malt review was graciously sent to me by the company without obligation. The views, opinions, and tasting notes are 100% my own.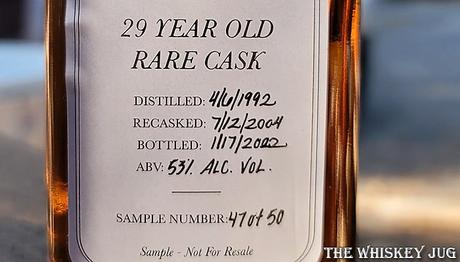 Bushmills Rare Casks 29 Years PX Finish Review
$750
Overall
5
Nose

(5)

Palate

(5)

Finish

(5)

BBF

(5)
Sending
User Review
0

(

0

votes)
Comments Rating
0

(

0

reviews)