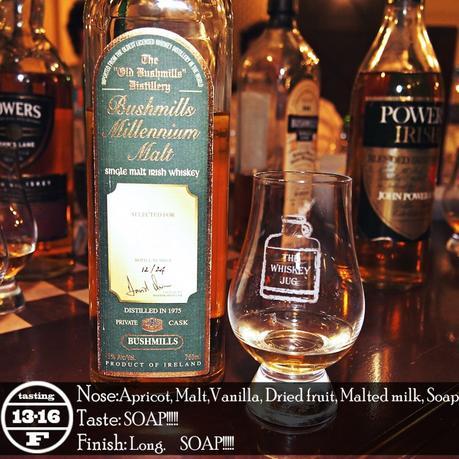 Bushmills Millennium Malt is a series of single cask bottlings that came from whiskey distilled in 1975 and placed in ex-bourbon barrels. After being filled people were allowed to purchase their own barrel of whiskey which would be bottled in 2000. In a sense this would be an investment because once bottled it would be the oldest Bushmills ever bottled and wouldn't be available to the public making them even more rare.
Each cask of Bushmills Millennium Malt yielded up to 200 bottles and the cask owner got every bottle of it to do what they wanted with. This is why, more often than not, they show up in auctions and estate sales than in shops. Besides being the oldest Bushmills ever bottled the Bushmills Millennium is also one of the few releases to buck their 80 proof chill-filtered status quo and was instead bottled at 43%; the only filtration employed was to remove any bits of barrel before bottling.
Bushmills Millennium Malt Info
Region: County Antrim, Northern Ireland
Distiller: Bushmills
Mashbill: 100% Malted Barley
Cask: ex-Bourbon
Age: NAS (24-25 years)
ABV: 43%
Non-Chill Filtered | Natural Color
Barrel: None stated
Bottle: 12/24
Price: $300+ (specialty shops and auctions)
Bushmills Millennium Malt Review
EYE
Dark honey
NOSE
Apricot, malt, vanilla, dried fruit, a malted milk like sweetness and some soap. The nose isn't completely unpleasant, but it is muted and light. Nothing exceptional about it, but nothing agonizingly foul about it either.
PALATE
Soap. This is a big floral soap bomb. I'm not kidding, this tasted like someone took a generic bar of soap from a cheap motel's toiletry kit and shoved it in my mouth. It's one of only 6 whiskies I have ever spit out.
FINISH
Brutally long fade of soap. I consumed an entire cup of coffee to try and get the taste out of my mouth and the smell out of my nasal passages but the linger was tenacious.
BALANCE, BODY & FEEL
No balance, round and full body with an oily texture… unfortunately.
OVERALL
This particular cask of Bushmills Millennium Malt is atrocious. None of us at the LAWS meeting could understand how someone would have bottled this cask and the only thing we could figure is that it was somehow tainted. However, corked whiskey is fairly rare andit doesn't make the whiskey taste like soap. Corking gives it more of a musty wet cardboard type of an essence and the whiskey itself was clear with no sediment in the bottle.
The cork did crumble when we opened the Bushmills Millennium Malt, but it wouldn't have fouled the whiskey that quickly. The possibility of bottle taint is why I almost didn't post this review, but since we have no other bottles from this cask to compare it to this could actually just be the way it is.
We know that some bourbons can have a soapy finish, especially some of the older bourbons, and in a world of nearly infinite possibilities it could have dominated the Irish spirit when placed in a particularly "soapy" barrel. It's hard to say, but after reading everything I've laid out I'll let you be the judge if you're considering buying aBushmills Millennium Malt at an auction or specialty store.
SCORE: 13-16/100 (F, not consumed at home)