Bushmills 12 Years Single Malt is the latest, permanent, release from the venerable distillery. It's made using a marriage of 11+-year-old ex-Bourbon and ex-Oloroso casks that have been married and finished in ex-Marsala casks for 6-9 months. In a way, it's like a baby Bushmills 21, or Bushmills 16, but with Marsala instead of Madeira or Port.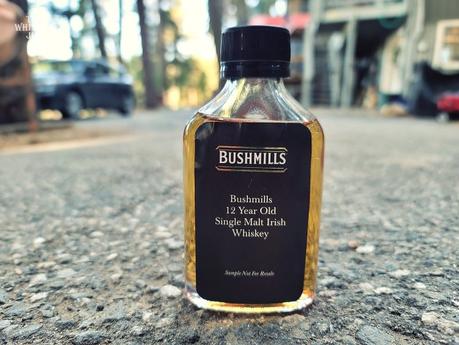 I love Bushmills… LOVE Bushmills. I've been a fan for over a decade and a half and I think they create not only some of the best Irish Whiskey, but some of the best sipping whiskey period… I just wish they'd bottle at least at 46% and NCF.
I've though this for a long time, and after trying some of the cask strength specialty casks a couple of years ago I'm even more of a believer in this. Until I tried them in that form I had no idea that on top of being more flavorful at higher proof and NCF, they'd also pick up a wonderful waxy texture.
The flavor I assumed would get a bit bolder, but that texture… wow. It was like some of the best waxy Clynelish SiBs I've had. I was shocked and I think if they did more in that form, specifically NCF, they'd go from having good whiskey to completley exceptional whisky across the board.
Alright, I'm stepping off the soapbox – let's get to drinkin'!
---
Bushmills 12 Years Single Malt – Details and Tasting Notes
Whiskey Details
Natural Color
Style: Single Malt (Irish)
Region: Ireland
Distiller: Bushmills
Mash Bill: 100% Malted Barley
Cask: ex-Bourbon, ex-Oloroso, ex-Marsala
Age: 12 Years
ABV: 40%
Bushmills 12 Years Single Malt Price: $60*
Related Whiskey
Bushmills White Label
Bushmills Black Bush
Bushmills 10 Years
Bushmills 16 Years
Bushmills 21 Years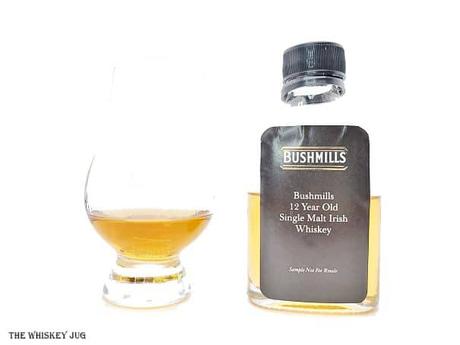 "Now available for the first time in America, the Bushmills 12 Year Old Single Malt Whiskey is a full-bodied, deep amber whiskey that is both complex and approachable." – Bushmills
Bushmills 12 Years Single Malt Tasting Notes
EYE
Light amber
NOSE
Dried apples, peaches, pears, strawberry taffy, malt, wax and a touch of vanilla beans.
I want to live in this aroma, it's elegant, balanced and just all-around nice.
PALATE
Honey, pears, dried apples, candied nuts, Honey Nut Cheerios, strawberry taffy and waxy vanilla.
Like the aroma this is elegant, it's something I could sip anytime and be happy.
FINISH
Medium -> Fruit, taffy, malty sweetness fades to Honey Nut Cheerios.
BALANCE, BODY and FEEL
Well balanced, medium body and a warm soft feel.
---
Bushmills 12 Years Single Malt – Overall Thoughts and Score
It was a foregone conclusion I would buy a bottle of this when it arrived in CA because I'm a massive Bushmills fan (still waiting), but I'm very glad I got to try it before it arrived. Because now I'm going to buy two bottles instead of one!
Fruity, malty, sweet and a touch earthy and elegant, this is the perfect afternoon sipper. Which, not coincidentally, is how I finished off this sample bottle: sipping it on my porch on a lazy Saturday afternoon. Bushmills 12 Years Single Malt is delicious, just wish it offered a bit more in the texture department.
SCORE: 3.5/5 (tasty, worth checking out ~ B | 83-86)
*Disclosure: The sample for this Irish Single Malt Whisky review was graciously sent to me by the company without obligation. The views, opinions, and tasting notes are 100% my own.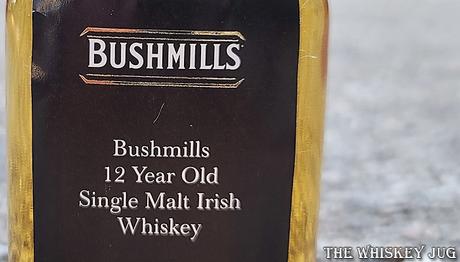 Bushmills 12 Years Single Malt Review
$60
Overall
3.5
Nose

(3.5)

Palate

(3.5)

Finish

(3.5)

BBF

(3.5)
Sending
User Review
0

(

0

votes)
Comments Rating
0

(

0

reviews)