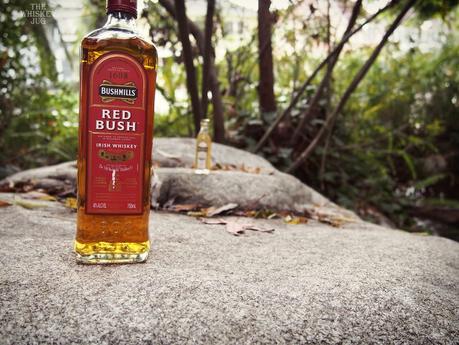 Bushmill's Red Bush is an all ex-Bourbon cask release put out by one of the original, or THE original as they say, Irish Whiskey distillers. Like most of what Bushmill's makes, at least by volume, it's a blend of single malt and single grain just without the few sherry casks they use to make their well known Bushmill's White Label or Black Bush. Fairly simple so let's get on with the review.
Whiskey Review: Bushmill's Red Bush
In Bushmill's Words: Bushmill's Red Bush
"Any night out toasting with a dram of Bushmills Irish Whiskey is a great way to celebrate Irish heritage. As Ireland's oldest working whiskey distillery, we should know a thing or two about Irish heritage. This year sip on Bushmills Red Bush – our newest whiskey – triple-distilled and matured to perfection in bourbon casks. Grab your mates, and say hello with a Red Bush."
Bushmill's Red Bush price, ABV, age and other details
Region: Ireland
Distiller: Bushmills
Mash Bill: Blend of Irish Single Malt and Irish Single Grain
Cask: ex-Bourbon
Age: NAS (3+ years)
ABV: 40%
Price: $24
Bushmill's Red Bush Tasting Notes
EYE
Amber
NOSE
Apples, pears, honey, spice, vanilla, toffee, dried apricot and a bit of oak.
PALATE
Apples, cocoa, honey, dried apricot, spice, toffee and a bit of citrus.
FINISH
Medium -> Apples, cocoa, honey, spice and toffee.
BALANCE, BODY & FEEL
Good balance, medium body and a soft feel
Bushmill's Red Bush Review – OVERALL
Not complex, but good. Bushmill's Red Bush is balanced and filled with layers of ripe fruit drizzled with honey and only a touch of caramelly grain. The aroma carries some extra vanilla and pears while the palate delivers a bit more of an oak-driven experience. While not deep or rich per-say, it is both deeper and richer than I was expecting given what it is.
All-in-all it's a more complex whiskey than the white label, which I do enjoy from time to time, but this has firmly usurped its spot. Sorry BWL, but your cousin Bushmill's Red Bush has officially kicked you out of the "cheap blended Irish" spot on my liquor shelf. And on that note, I'm going to go pour myself another glass. Cheers!
SCORE: 82/100 (B-)