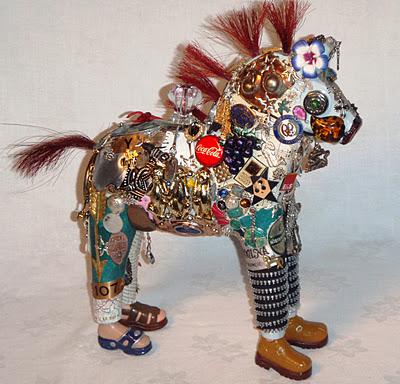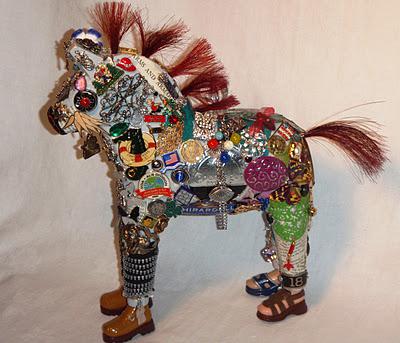 In trying to find a title for this piece i googled
"famous horse names"
and came up with several I liked:
Mingo 
Fancy Pants
and Burbank
The "
Mingo"
people were part of the Iroquois group of Native Americans. The word "Mingo" is better recognized as the name of Daniel Boone's best friend from the 1960's TV series "Daniel Boone," where Mingo was a half-Cherokee, highly educated graduate of Oxford University and Daniel's constant companion. I thought this would be a good name for a trusty trail horse.
"
Fancy Pants
" is the title of a movie with Bob Hope and Lucille Ball, there was a horse named Peaceful but I like the film title better.
"
Burbank
" - This was the name of Danny Glover's cat in the 1987 movie "Lethal Weapon." It's also a good horse name for a horse that acts like a star.
I chose
Burbank
,
the Hollywood Horse
because this horse is definitely a 'star'.
In my typical style, I took a small wooden horse and first covered it in various papers and tissues. I applied a very long black zipper to the front legs of the horse (i think this is my favorite thing on this piece, next to the shoes)
btw
: The reason the shoes on the hind legs don't match is because I used the mates on an earlier piece I made titled
"Old Friends"
.
Click on the images to take a closer look, it is very fun to see all the bits, baubles and bling this little guy has collected along the way.