It's just a quick post from me today to say that I am now back from Turkey and still trying to get back to normal after such an amazing holiday. I'll be writing a proper post about it in the next few days so I won't waffle on too much about it until then, I promise! I just wanted to share this little bargain for anyone who hasn't already seen it mentioned on Louise's blog. As a regular on the ASOS jewelry section I had always been lusting over the bunting inspired bracelets and necklaces, but at £8-£10 I just  gave them a miss.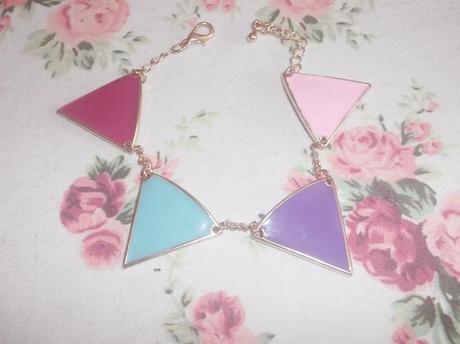 Bunting Bracelet (link)
This lovely bunting bracelet was from Ebay and a total bargain at just £2.49 with free P&P, coming all the way from a seller in Hong Kong. I'll admit I was a bit sceptical when I first saw the price as I had convinced myself it would be a cheap and tacky piece of jewelry but after reading Louise's post and having another look I decided to give it a go, and now I can safely say that I'm so so happy with that decision. The bracelet certainly doesn't feel cheap and looks lovely on the wrist, although I think it is a little bit too big for my miniature wrists. Not that that will stop me wearing it! If you are a fan of the bunting style jewelry then I'd definitely recommend that you take a look at this lovely piece.