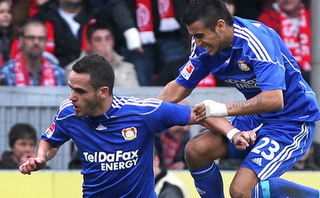 Renato Augusto celebrating his goal for Bayer Leverkusen
A couple of months ago I wrote about Borussia Dortmund, and the way that they had been dominating the Bundesliga. While Dortmund still have a strong lead of nine points over Bayer Leverkusen, things aren't looking as solid as they were back when Jurgen Klopp's team had gone 15 games without losing. Borussia's latest 1-0 loss to Hoffenheim gave the perfect chance for Bayer Leverkusen to gain some ground on the table leaders. And amidst the chase, Bayern Munich's 6-0 victory over Hamburg stands out as a possible resurgence from the Bavarian club.
Borussia Dortmund's third loss of the season was an unfortunate one for the team. Like usual, Dortmund played with astounding speed and simplicity. Their idea of keeping the ball on the ground, moving it forward with every pass is one which slices through defences with ease. Although Borussia cut through Hoffenheim many times they were unable to definitively put the ball into the back of the net.
Hoffenheim on the other hand were fast with their attacks, quick to spring and often forcing Weidenfeller to make acrobatic saves. Ibisevic was waiting for golden opportunities, and when Beck squared a perfect ball to him, Ibisevic promptly shinned it in. The 63rd minute goal was invigorating for the Bosnian who flashed two close headers over the bar, and then struck the woodwork with a fantastic shot. Dortmund on the other hand were fairly stunned, unable to get back into the game and losing the match 1-0.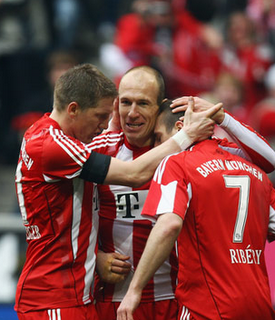 Robben was majestic in Bayern's 6-0 win over Hamburg
Second placed Bayer Leverkusen took advantage of Dortmund's loss, defeating fifth placed Mainz 05 in a tight 1-0 win. While both sides created plenty of well worked opportunities, hitting the woodwork and forcing both keepers to make some fine saves, the goal was a combination of distraction and quick thinking. Mainz played a short pass from the keeper to a defender, and Leverkusen's Renato Augusto was quick to steal the ball from the Svensson, and fire a screamer into Mainz's top corner. It was a fatal distraction from Svensson, one which cost his team's seventh home defeat of the season.
While Leverkusen are still nine points from Borussia Dortmund, there are  still eight matches to play. And along with Bayer Leverkusen gaining ground, there was also Bayern Munich who were victorious over Hamburg. Robben scored three in his team's 6-0 win which included goals from Ribery, Muller, and an own goal from Westermann.
Is there enough time left for a revival from Bayern Munich? The Bavarians are 16 points from Dortmund, and the title is still mathematically in the club's possibilities. And what about Borussia Dortmund, can Klopp manage them back onto the right track? Share your predictions and thoughts regarding the Bundesliga below!