So, I watched Bullet Raja last night and I am hugely disappointed now. No it is not as rubbish as "Dabangg", "Rowdy Rathore" or "Singham" any other shit they are making in the name of action films these days. 
I am disappointed because Tigmanshu Dhulia made this film, if this was made by Prabhudeva, I would have said that he improved a lot as a Director, but "Bullett Raja" is below standards for someone like Tigmanshu.  It was clearly visible that Tigmanshu was more interested in the commerce of the film and not on how the film is made. When we talk of Tigmanshu, we can't resist thinking about "Haasil", "Saheb Biwi aur Gangster" and "Paan Singh Tomar"; such is the standards he has set for himself in the Hindi Film Industry. This is the story of 2 extrovert young men [Jimmy Shergill and Saif Ali Khan] from the state of Uttar Pradesh, who despite of all their resistance fall into the dirty politics of the state, eventually turning them into local gangsters. With time, they evolve to become two of the most feared gangsters of the state. But the execution was just not good enough and it was like they actually wanted to be a gangster only.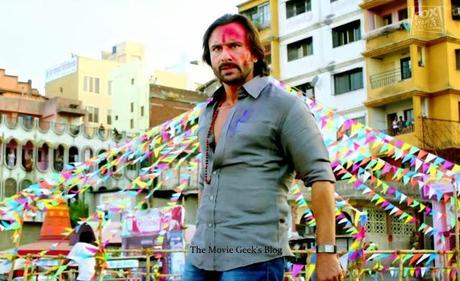 So, what could have been a really good gangster lord cinema, took a romantic turn and the film went to self destruction. There could be a romance angle included in an intelligent way but it appeared like they forced a heroine in between the plot only because a hero needs one.
Tigmanshu often cast the same actors in more than one of his films, and Jimmy Shergill has been working with him since Haasil in 2003. Jimmy was good but not as great as he was in Saheb, Biwi aur Gangster, he has great acting skills and it was disappointing seeing him do an alright job.
Sonakshi Sinha did what she has been doing since Dabangg, she becomes a part of every plot where there is no use of a heroine and when they actually need an actress, why whould someone cast Sonakshi, anyway ? Vidyut Jamwal had a little role though it was an important character in the film. He has shown more expressions than he generally shows in any of his films, but one who really did something great in this otherwise mediocre film was Saif Ali Khan, Saif was really good as a middle class man and immersed himself deep into the skin of the character of a local UP guy. The fact that he has done great acting playing a metro-sexual in cinemas like "Love Aaj Kal" and "Cocktail" fascinates me even more when I see him playing a small town guy. He did a great job in "Omkara" as well, and this was another instance when he shown how versatile an actor he is. This film has a good story line but is hugely commercial that makes it a mediocre cinema. Tigmanshu Dhulia fans are going to be disappointed. 
Movie Geek's Ratings: 6/10
Cast: Saif Ali Khan, Jimmy Shergill, Sonakshi Sinha, Vidyut Jamwal.
Directed by: Tigmanshu Dhulia
-------------------------
Author: Amrit Rukhaiyaar