How to manage classical music in your iTunes.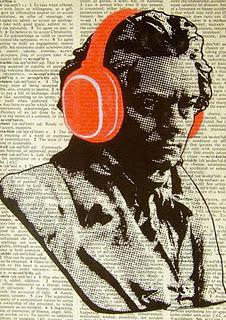 If Beethoven had read this article, he would have
filed his Karajan recordings correctly, too.
Photo from Teapot Shortage.
Superconductor
could not function without a massive iTunes library, accessible anytime on my Mac with two finger movements. I also keep updating the "Classical iPod", 160 gigs of carefully organized works--and the newer iPhone, with less storage capacity but a greater chance that my listening experience will be interruptive.
The challenge of keeping any classical music library updated is compounded by two things: the generally poor quality of CDDB (CD Database) listings, which drive iTunes' ability to assign names to your music) and that there is no existing industry standard or naming conventions applied across the board to classical music. Even if there were, nobody wants to pay coders or web people to do it. So it never gets done.
I did it, and at present, have about 200 gigs of music, relatively well organized. Here's how I solved the problem. Maybe it will help you follow suit.
Step One: Balkanize the Genre.
iTunes' factory setting has just one assigned genre for "classical" music. Everything in one field. Useless.
I divide works as follows:
20th Century: any instrumental music written 1900-2000.
Cantata: Sung works for small ensemble. Lots of Bach.
Chamber Music: Everything for small ensemble except string quartets.
Concerto: if it has a soloist vs. an orchestra, it's in here. Includes piano concertos and violin concertos.
Harpsichord: Like piano, but plucked. Solo works in here.
Lieder: all art songs, even if they're not in German.
Opera: The queen of arts.
Operetta: because I roll like that.
Oratorio: Religious-themed stage works. Lots of Handel.
Orchestral: Catch-all category: tone poems, overtures, waltzes, etc.
Piano: A soloist battling 88 keys. Some duo works for four hands.
Sacred Music: Masses, motets. You know, church music.
Symphony: If it is designated "symphony" by its composer, it goes here. From C.P.E. Bach to P. Glass.
Violin: Solo and duo works for that instrument.
Now here's the good part. You can do this quickly. Select your files. (albums). Hit
Command-I.
An info box pops up. iTunes will ask you if you "think it is a good idea to edit this many files at once." It is.
Go to the Genre field at the bottom. Type in your new Genre. Wait for it to compile and presto-change-o, you've started to Balkanize your massive "classical" collection.
Step Two: Standardize your Fields. 
Once you decide what genre your files are, it's easy to start changing the fields to suit your music needs. You can change many of these fields at once for multiple files, and ITunes will reorganize your folders in your Library, putting the "books" on the right shelves. This is just the method that works for me, and I thought I'd share it.
Pick a disc of Beethoven symphonies. Let's say Herbert von Karajan, conducting the Beethoven Fifth. The 1981 cycle he did in Berlin. Here's how it looks, freshly downloaded from Amazon.com: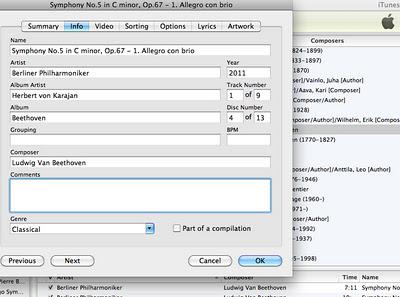 The Song Title field is all right, but the rest is a mess. The album is called "Beethoven?" Really useful. The composer's name is spelled wrong and there are no dates on him (I use the dates for search functions in playlists. May explain that later.) And worst of all, the artist is "Herbert von Karajan" with "Berliner Philharmoniker" broken out into a seperate field.
Here is the same file after a quick cleanup: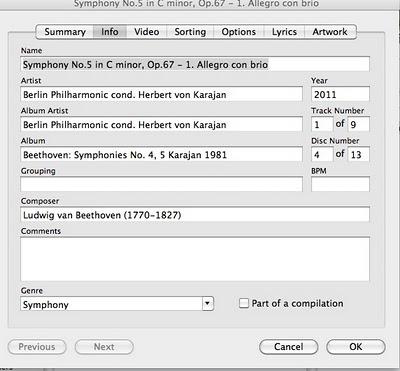 The Song Title is unaltered. Album is now called "Beethoven: Symphony No. 4, 5 Karajan 1981." This gives you the pieces, the conductor's name, and (important for Karajan) which cycle it is of the four he recorded in his lifetime. Composer's name is now spelt right, with those useful dates. And the Artist and Genre fields have been corrected.
That's pretty much it. Hope this helps you get started uploading (or downloading) your music and getting your portable classical collection to a place where everything is as it should be.