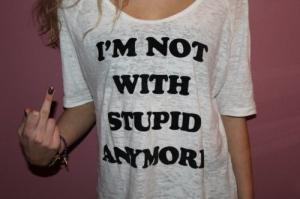 My nice new travels a lot for work which is fine because I work all the time but after having an amazing weekend with him last weekend this past weekend was not so amazing…
He was gone thursday-sunday and I did not receive one single text from him. I texted him friday and told him that Bentley (my dog) and I missed him and he didn't say much back. And then saturday morning at 1:30 a.m. I get a drunken phone call asking about my weekend and that he wants to see me when he gets back sunday. I was really short with him on the phone because he has barely texted me and is calling me so late. He picks up on how annoyed I am and we end the call pretty quick. Sunday comes…no text.
Is it just me or how hard is it to send one little text saying your busy and that you will talk as soon as you can? It sounds likes to me that he needs to be schooled in a world without me in it. Good bye Mr. Nice guy! You treated me well but your communication efforts suck and I don't have time for it! Am I being too hasty?
Oh well! I guess some free time just opened up for me and my All American bad boy!