An article in The Palm Beach Post, "He's Bubba Watson, he's American and he's becoming a big time player," made Tom Petty's song "Freefalling" come to mind:

"She's a good girl, loves her mama
Loves Jesus and America too..."

Gerry "Bubba" Watson is fast becoming both a USA and PGA Tour 'best hope' as a young number-one player most likely to grab the top spot in the Official World Golf Rankings.

Although it will take time to 'rule' the rankings and push past European Tour golfers, I was curious as to why Bubba is fast becoming a fan favorite.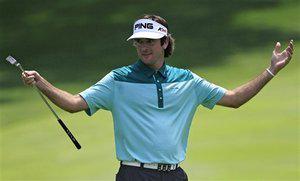 Photo credit: New Orleans Sport
Can it be his social media conversation that engages fans? Although Watson's tweets are less than memorable, he still currently lays claim to over 122,000 followers. Bubba also shares videos with the fans and answers questions ...but he's no Ian Poulter!

Bubba Watson Twitter profile? Christian, Husband, Pro Golfer who enjoys giving back to help others grow in life! Your welcome.

A link from Twitter to Facebook simply leads a user directly to the Bubba Watson Facebook page (over 18,000 strong) which shows affiliations with great American charities,
"The Ronald McDonald House Charities, The First Tee of Northwest Florida, University of Georgia, PGA Tour, The Birdies for the Brave and The Green Beret Foundation."
Bubba may not be the great communicator that helps drive Lee Westwood or Ian Poulter's fan base, so it may well be his golf game that draws the crowd.

Watson has become a solid Tour golfer. After his second victory of 2011 came last week at the Zurich Classic and his third overall on the PGA Tour, fans are starting to cheer Bubba.
 
Avid golf fan and Yahoo contributor Mark Paul gave a sense of the typical fan feelings about Bubba, "He is a popular golfer because of his style of play. But he is also becoming popular for his quality of play."

Brett Martel , writer with the Associated Press added, "The lanky lefty's unorthodox swing and awe-inspiring power were already a draw."

In my opinion, being a left-handed golfer with a huge "down the middle" drive certainly helps Watson stand out in a crowd. Combine these attributes with his Mickelson-esque family involvement and his determination to become a better man and Bubba has all the makings of a PGA Tour standout.
 
Bubba was considered a bit of a "hothead" earlier in his career, "My wife, my caddie and my trainer would say my attitude's in the right spot," Watson said. "This week, I won [by] not getting down on bad shots, just staying focused on what I'm supposed to be doing."
"All the bad boys are standing in the shadows...", Tom Petty, "Freefalling"
Perhaps it was the ability to manage his anger which turned around Bubba's golf game placing him in a position to win. "If I'm going to support kids and do charity work, that's not a good example to lead on a golf course," relayed Bubba. "So I still have backwards steps, but hopefully I take two forward when I take one back, and so far it's working." Sounds like Watson has finally stopped freefalling and is starting a forward motion which may make him unstoppable.
Voice your opinion on Golf4Beginners on Twitter
Read Golf for Beginners blogs here