Don't worry guys – I'm still here. Sorry I've been away! As I said in my last post I wasn't feeling too great to begin with and I know it sounds awful, but I just didn't want to blog… I had nothing to say, so I stayed quiet! But I'm baaaaaaaaack!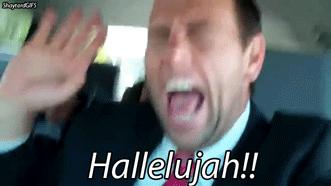 Before we get going, you should probably go and read this post so you know how I used to store my makeup. That post also links to another post that shows you how I stored my makeup before that!
I'd like to point out that I made those little boxes in March. They lasted for so long! If I'm honest they still had a bit of life left in them, but the little dividers were pretty loose and they just weren't working for me anymore.
I still store quite a bit of makeup in the drawer, but because I have a little set up on my window sill now I've been able to downgrade to a smaller drawer and fit my skincare in there too!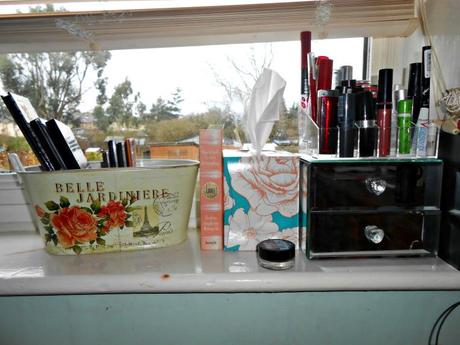 So this is what's going on with the window set up. The little mirrored drawers have my eyeliners and mascaras in, then on top are all my lipsticks… and a brow pencil… and various other bits that don't really have a home. I really like storing my palettes in the little bucket type thing too!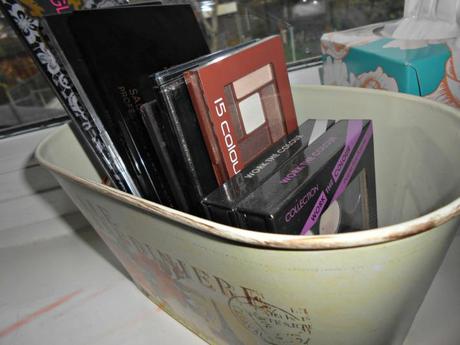 And below is how I'm storing everything else (this week anyway). It looks really messy and unorganised in the picture, but I actually know where everything is! And since it's all now in a smaller drawer I have a big drawer going spare for all those chunky knits I'm bound to collect this winter!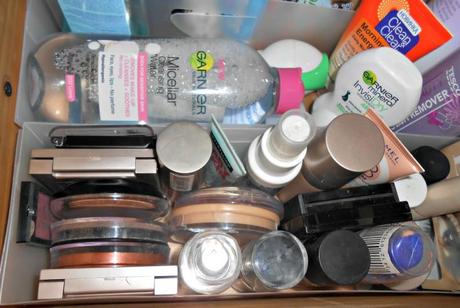 My makeup brushes are stored pretty simple…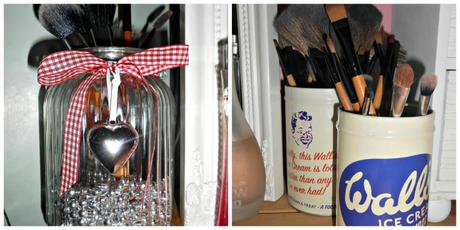 Most used face brushes go in the glass jar, most used eye brushes in the small Walls tin and spares in the one at the back!
Do you have your brushes on display like this or do you hide them away to protect them from dust? Let me know!