Is everyone excited for the weekend? I know I am! I'm so excited about my retro-inspired swimsuit, I thought I'd try styling it a bit.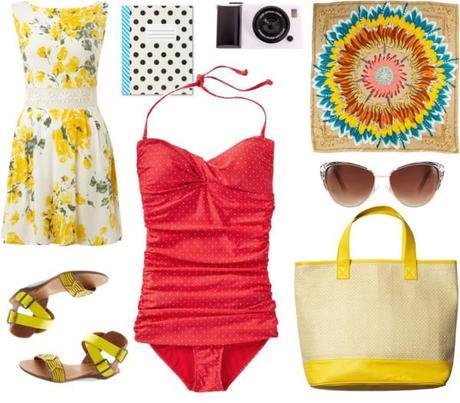 Brunch to Beach
by
mod31
featuring a crochet dress
AX Paris crochet dress, $19 / Old Navy bandeau bikini / Wedge shoes / Monki beach bag, $49 / Echo scarve / Jeepers Peepers cat eye sunglasses, $16 / Tech accessory / Modern Graphic Notebook
 I have to admit that the day I bought this Old Navy swimsuit, I wasn't too thrilled with it. I had my heart set on a J.Crew one and this wasn't an exact match. But after wearing it, I have to say it was an awesome buy! The color is more vibrant than I realized, and the overall look is very modest and sweet (at least I think so!).
I think a great way to spend the weekend is a brunch with friends, and then lying out on the beach for the rest of the afternoon, with just a book,  journal, and ocean with which to amuse myself. In fact, I believe that is my plan for Sunday, after morning Mass. The outfit above is perfect to take from brunch to beach, don't you think? I especially like the large square scarf, as it functions perfectly as a cover up skirt while I'm out of the water. Can anyone tell that yellow is my favorite color?
What do you like to wear to the beach? Any suggestions for casual and easy cover ups?