I didn't get up until 9 am today. Sleep was bliss! I went down to breakfast where there were only a handful of our people left. After the caffeine had started to kick in I started to pick up on a conversation being held by a group of our passengers about mrs difficult, who the rest of the group have dubbed WB (whinge bag!), and were saying what a problem she had been at dinner the night before. It seems there was a lot going on that Lorraine and I had missed. She apparently complained about every course and was very rude and arrogant every time she addressed the staff. She had been bad mouthing Lorraine unjustifiably and has managed to alienate herself from the whole group. No one wants to be in her company, which is unusual for our people. There is usually someone who is kind enough to pal up with the difficult ones but it seems that WB is just too much! Interesting listening to their opinion of her, but I do hope she changes her attitude and pals up with someone because at the moment it's looking like she's in for a very lonely couple of days. :-(
Anyway, after a good breakfast we met our guide for a 2hr walking tour of the city.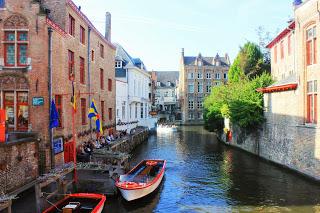 Our guide was very good. She showed us all the points of interest and just wet our appetite for us to go back to things which took our fancy.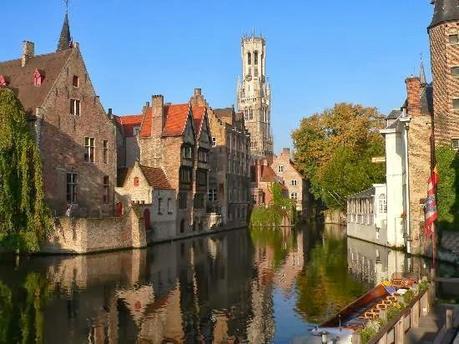 After thanking the guide for doing such a good job, Lorraine and I headed away from the center of the city looking for a secluded little bar for a beer and 5 mins peace. We actually enjoyed 2 beers and then we were spotted by a couple of our passengers who were looking for the same!
I wanted to do the boat trip around the city's canals so off we went. Lorraine managed to blag us on for free by saying we wanted to see what it was like so we could promote it to our passengers! Although it was very pleasant, I'm glad I didn't have to pay €8 for it because it didn't show us anything that we hadn't seen on the walking tour and we had been packed in like sardines.
We then headed back to the main market square where we stopped for a croque Monsieur each, washed down with a couple more beers, watching the horse and carriages and all the goings on in the city.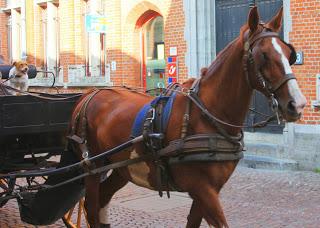 By now it was getting on for 4 o'clock so we started to head back towards the hotel.
We had introduced the two single ladies to each other at breakfast and suggested that they may like to meet up for dinner together this evening and we were hoping that throughout the course of the morning, WB would pal up with somebody as well so that she wouldn't be alone for dinner. Unfortunately, it seemed she had no intention of trying to make friends with anyone and gave a rather sharp response to anyone who tried to include her so maybe she is happy with her own company and isn't worried about eating alone?
So we arrived back on the square where our hotel is and decided on another beer in the pub next door where we joined a couple who both Lorraine and I had traveled with before. They stayed chatting with us for a fair time before going to get ready for dinner. We stayed and took note of our people heading out for their evening meal and spotted just about everybody except for WB but we hadn't heard from her on the phone so we assumed she was ok and we eventually set out at about 7. We called into a very bizarre little Celtic bar that I know which I didn't think would be Lorraine's scene, called the Druids Cellar.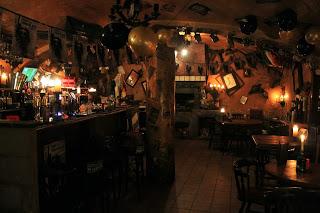 She loved it! It's a quirky little place, underground, in the dark.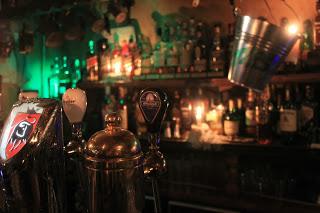 Two beers here before heading for my nice little Italian restaurant which I was really looking forward to. When we arrived and it was closed I was really disappointed. And hungry. We had a job then trying to find somewhere else to eat on our expenses budget. We ended up finding another Italian which wasn't much more than a glorified cafe but the food that was served was nice and it filled a little hole!
After quite a long day and doing quite a lot of walking we headed back for the hotel, diverting into the pub for one more beer. While we were sat in the bar we saw WB walk past, so she has at least eaten tonight. Now feeling rather weary, I packed myself off to bed.