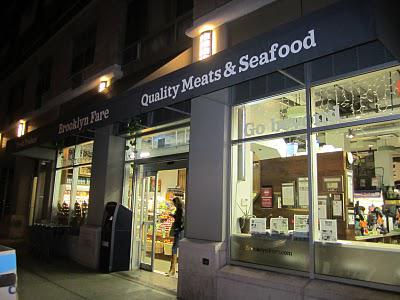 Apparently, I am all about the set menus these days. They are, of course, not an every night affair, but why can't they be an every once in awhile affair? The amount of food that you are served, and if you are in the right place, the level of excellence that you witness, is certainly worth the price. Who doesn't loved being served a chef's very best selection? And if you are ever given the opportunity to go or can plan far enough in advance to book a piece of its counter, add Brooklyn Fare to your culinary experiences.
When Chef Cesar originally opened this unique spot, it was the ultimate chef's table - a kitchen with a basic table set in a simple space next door to the Brooklyn Fare grocery store in the heart of downtown Brooklyn. He would serve a fixed menu each night to the 12 lucky guests that had already recognized the talent of this rising star. Now, two Michelin stars later, Chef Cesar continues to produce the same, exquisite culinary creations, but in a much more established, systemized setting for 18 with up to three seatings a night - and with a higher price of $120 per person. There is still the BYO and serve yourself policy and just one menu each night that is really only set no more than an hour or so before the first seating. The daily menu is determined through experimentation based on the market's freshest produce and catches.
Although the chef hails from Mexico, most of the menu is Asian inspired. The evening starts with an assortment of 10-12 small dishes that are not listed on the menu. Every one is seated at the arced counter that faces the kitchen and is served at the same time once dishes are plated and presented on display. Not only is every course unique in flavor combinations and ingredients, but each one was served in what seemed to be a dish designed perfectly for it. I apologize in advance for not being able to snap photographs of these mouthwatering creations, but photographs are no longer permitted in this intimate setting (explicitly noted in the menu).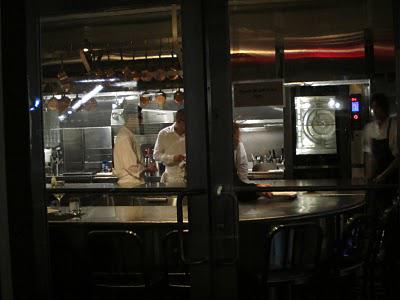 If you are sushi lover, you will love this place as the majority of dishes were seafood - and often raw. Don't let the idea of 10-12 small dishes prior to the actual menu scare you off as these were truly bite size or even finger food - and not even listed in the menu. On the night we were there, the seafood bites included a wild salmon ceviche, torro with ginger, oyster with grapefruit, king crab, yellowtail with jalapeno, sardine with thinly sliced fried potatoes, and smoked octopus with hearts of palm. Other highlights were a duck croquettes and a shot of pumpkin and parmesan soup. It was over an hour into the evening before anything from the set menu arrived in front of us, but at Brooklyn Fare, there is really no concept of time. Somehow you are never waiting for a dish, yet at the same time, you never feel rushed. While the main dishes did arrive on larger plates, the portions were nicely suited for the culinary feast we were in the midst of enjoying. Everything was so beautifully plated on usually just one part of the dish, it often resembled a piece of art. The highlights of the main dishes were scallops with shrimp risotto and pea shoots, pumpkin ravioli with truffles and porcinis, monkfish with foie gras and cabbage, and guinea hen with roasted brussel sprouts. Dessert was extremely understated with sorbet and petit fours - and that was fine by me as the finale to the sublime feast of nearly 20 dishes.
When food is coming at you with that level of grace and expertise, it is best to just take it all in and enjoy the moment you are in. While I can only begin to tell you about this experience, it is truly a personal one that I hope any one with food curiosities can take part in at some point. At first I was a little disappointed that no photographs were allowed. But, by the end, I realized no pictures could possibly do the meal justice and I am glad my amateur photography skills didn't need to confirm that for all of you.
And for those of you who are all about the Roach Rating - you are seeing correctly. Brooklyn Fare earned all five! I admit that I did once declare that when I came across anything Five Roachworthy, my work was done. I take that back! I am already wondering, who will be the next?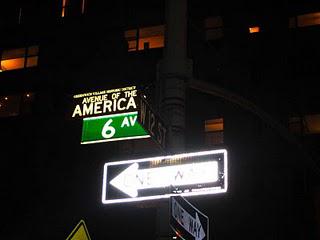 Brooklyn
Fare
200 Schermerhorn Street
New York, NY 11217
(718) 243-0050
website
FOOD RATING (Out of 5):