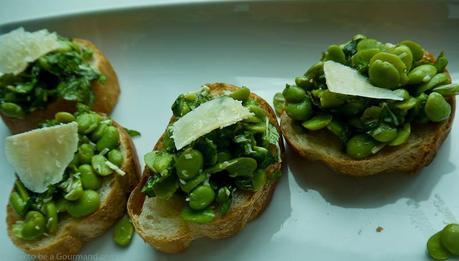 Broad Bean & Mint Bruschetta
Now that we are officially in Summer, (and for some more than others it has felt that way for a while! Gulp…it's a thirst quenching 34°C  here today) it is a perfect excuse for me to eat one of my favorite vegetables. May I present to you the humble broad bean!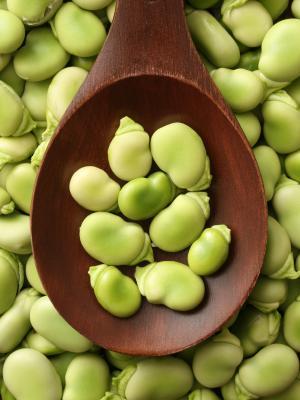 The humble broad bean
And it's perfect partner, some fresh mint. Ta-dah!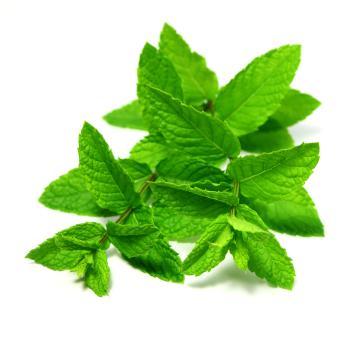 A sprig of mint
Mmmm a marriage made in heaven! What's the best way to enjoy it? Throw them together with some olive oil, Parmesan cheese, lemon juice and serve on crusty bread and you'll be begging for more!
As I mentioned in a previous post  I just can't get enough of Vietnamese food at the moment and have stacks of fresh mint in the fridge. I really detest wasting food so this is a great way to use up some of my fresh herbs.
I love this dish as it is so easy to prepare and is perfect for a tasty lunch or snack but you may also want to opt for crostini instead of bruschetta to serve as canapés at a dinner party.
This is a great way to enjoy seasonal vegetables as broad beans will be prominently displayed on supermarket shelves at the moment. If you are unable to use fresh broad beans, the dish works just as well with frozen beans.
This recipe also works with peas but I prefer the firm texture of the broad bean and its slightly nutty undertones.
If there is a downside to this dish, I would say that it is the length of time taken to prepare the vegetable (i.e. double podding). But no matter, bring some music into the kitchen, turn up the volume and sing loudly as you complete the podding. A very therapeutic process, I assure you.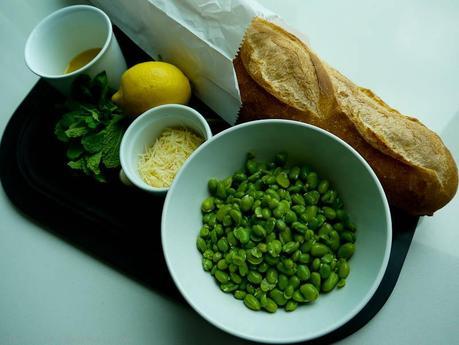 Ingredients for Broad Bean & Mint Bruschetta
Print Broad Bean & Mint Bruschetta
Prep Time: 30 minutes
Cook Time: 7 minutes
Total Time: 37 minutes
Serving Size: Makes 12 Bruschettas
Broad beans are ripe for picking at the moment but if you do not have fresh ones to hand, this recipe also works with frozen beans and delivers the same results.
Ingredients
250g of broad beans, removed from pod and shelled
generous bunch of mint
1 baguette (big enough to be sliced into 12 pieces)
2 large tbsp of grated Parmesan cheese
juice of 1/2 a lemon
1 clove of garlic, peeled and pressed
2 tbsp of olive oil x 2
Parmesan shavings for 12 portions
salt and pepper to season
Instructions
Cook the beans in salted boiling water according to the packet instructions. Drain and leave to one side.
Pre-heat grill and slice the baguette into 12 pieces, approximately 1inch thick.
Take a small bowl and mix together one portion of the olive oil and the pressed garlic.
Place the baguette slices on the grill and turn them just before they go brown. This applies to the other side too.
Remove the bread from the grill and coat one side of each slice with the olive oil and garlic mixture so that it seeps into the crispy bread.
In a bowl, toss together the beans, the remaining olive oil, lemon juice and the grated Parmesan cheese. Then add the chopped mint and toss the mixture again.
If you like, you can go one step further and crush the beans, but I prefer the firm texture of the bean.
Add salt and pepper to season, if required.
Use a spoon to serve the mixture on the warm toasted bread.
Garnish with Parmesan shaving on each slice.
Sink your teeth into the delicious, flavoursome bruschetta. Mmmm crunch, crunch.
Serve with a chilled glass of Chablis or Sauvignon Blanc.
Schema/Recipe SEO Data Markup by ZipList Recipe Plugin2.0http://howtobeagourmand.com/broad-bean-mint-bruschetta/Unless otherwise stated, text and photographs © 2011 How to be Gourmand. All Rights Reserved. Kindly request permission from the author to copy or reproduce elements of this blog.
I'm entering this recipe into Karen's Herby challenge for June over at Lavender and Lovage.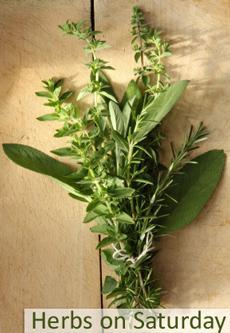 How do you use mint in your recipes? Do let me know in the comments below!