As part of the
Simple and in Season
theme for June, I thought it would be fitting to pledge my allegiance to the humble broad bean and contribute my
very simple
  Broad Bean, Mint and Feta Salad.
Oh dear broad bean, those of us who are your biggest fans understand the patience involved in podding and shelling before we can attempt to simmer and dress you!
Did you know that 5kg of broad beans produces 1.5kg of podded beans and then 1kg of shelled beans? That is devotion for you!
Apparently the broad bean is used in controlling hypertension as it is rich in the natriuretic agent L-dopa; a substance used medically in the treatment of Parkinson's disease.
In some Italian communities, people carry a broad bean for good luck, believing if you carry one, you will never be without the essentials in life.
This salad of broad beans, mint and feta cheese is a perfect dish on it's own but I also love to serve it with crispy pan-fried sea bass. The combination of flavours and textures is an ideal way of savouring summer on a plate!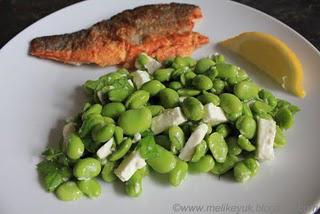 Broad Bean, Mint and Feta Cheese Salad with Crispy Sea Bass
Timing:
Preparation: 10 minutes (post podding and shelling)
Cooking: 8 minutes
Portion Control:
Serves 2
Ingredients:
300g of broad beans podded, boiled for 1.5-2 minutes and shelled
100g of feta cheese, cubed
2 Sea Bass fillets
2.5 tablespoons of white wine vinegar
1 tablespoon of olive oil (Salad Dressing)
2 tablespoon of olive oil for sea bass coating and for frying
Generous handful of fresh mint, chopped
Salt
Pepper
1/2 a lemon
Directions:
Heat a frying pan over medium heat and add one tablespoon of olive oil
Rub plenty of olive oil and salt on the skin of the sea bass before placing into the frying pan (skin facing downwards). Ensure the side facing upwards is also seasoned. Leave to fry for about 5 minutes to ensure crispy skin.
Meanwhile, place the white wine vinegar and 1.5 tablespoons of olive oil into a bowl and mix together for a salad dressing.
Add the broad beans and cubed feta cheese to the bowl ensuring the dressing is coating the beans and cheese.
Turn the sea bass fillets onto the other side and turn off the heat. 
Add mint to the salad bowl and toss the ingredients together. Season with salt and pepper as required, but remember that feta cheese already has a high salt content.
Squeeze lemon juice onto the sea bass fillets before serving onto plates with the broad bean, mint and feta salad.
What could be simpler? Fresh peas also work well in this recipe if broad beans are not available.
Bon App
é
tit!