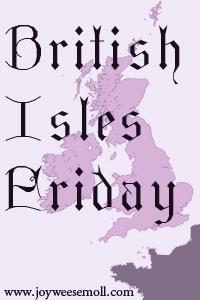 Welcome to British Isles Friday! British Isles Friday is a weekly event for sharing all things British and Irish - reviews, photos, opinions, trip reports, guides, links, resources, personal stories, interviews, and research posts. Join us each Friday to link your British and Irish themed content and to see what others have to share. The link list is at the bottom of this post. Pour a cup of tea or lift a pint and join our link party!
Last week, I enjoyed learning about how the British experience CottageCore. Speaking of cottages, Tina enjoyed Reluctantly Home by Imogen Clark that is mostly set in rural Suffolk - a place with lots of cottages.
While I learned about CottageCore last week, I was drawn into the broader world of aesthetics. Aesthetics, as used in modern social media, are what I called "themes" for most of my life. It's a way of expressing related concepts in dress, décor, and activities to foster a mindset that one enjoys. Social media brings an additional component of community. The communities around different aesthetics are built in Tumblr, Instagram, and Tik Tok. Since those aren't places that I frequent, I was unaware of this phenomenon until recently.
The Aesthetics Wiki is a helpful resource that didn't require familiarizing myself with new platforms in order to get oriented. They describe a wide-variety of aesthetics from CottageCore to Goth, from Minimalism to BarbieCore.
Since I talked about CottageCore last week, I wanted to cover an aesthetic that is deeply rooted in British culture - Academia. Of course, there are colleges and universities all over the world. But only Britain has Oxford and Cambridge. Possibly most important to the young folks who embrace aesthetics on social media, the UK has Hogwarts.
The Academia aesthetic is about learning and all its related activities - teaching, studying, researching. Favorite activities include browsing bookstores, visiting museums, studying in libraries, and having long discussions about complicated topics.
A person who embraces the Academia aesthetic might wear a tweed blazer over a sweater vest and button down shirt with trousers and oxford shoes - the same outfit that you'd picture on a professor at Cambridge for about the last 100 years.
The preferred décor for the Academia adherent includes books on wood shelves, elegant writing utensils, and a cup of tea or coffee.
The Academia aesthetic comes in a variety of subtypes, most fit under the broad categories of Dark and Light. Those descriptors can apply to a lot of things. A Dark Academia blazer is the color of dark chocolate; a Light Academia blazer might be the color of honey. Dark Academia appreciates darker themes - Dead Poets Society for dark and The Guernsey Literary and Potato Peel Pie Society for light. Photos that capture dark academia might be shot at night or under cloudy skies, while light academia can show someone reading in sunlight in front of a stone wall covered in climbing roses.
For a British take on Academia and other aesthetics, check out this British YouTuber's list of UK TV shows to match various asthetics:
If you had to choose an aesthetic, which would yours be? I'm leaning toward Romantic Academia.

About Joy Weese Moll
a librarian writing about books