I don't quite know what's happened, but it appears that my collection of sunglasses has somehow dwindled since last summer… it seems that I'm down to two pairs. Even though I can only wear one pair at a time (due to only having one set of eyes that need to be shielded from the fiery thing) I can tell you now that this simply will not do. And so, my search for more sunnies begins.
I'm a fussy fucker when it comes to sunglasses. I don't like those massive oversized ones and I don't like those stupid 'retro' round ones – you know the really small ones. No no no.
I stumbled across this handy little guide from the Sunglass Hut which not only tells you what shape glasses you should wear to suit your face, but it also helps you identify your face shape if you're not sure. I'm not saying I've taken their advice for my rounded mush on board, but some may find it useful! Here's a handy little link for you.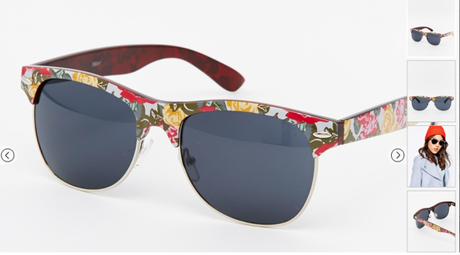 AJ Morgan Hullabaloo Sunglasses
– Originally £15, on sale £4.50
These are so cuuuuute. I used to have a pair quite similar to these but I sat on them… don't laugh. I'm tempted to buy these but I prefer to try things like sunglasses on before I buy them. I don't want to pay P&P and then have to send them back! I like that these have a lovely floral pattern but they're not too in your face.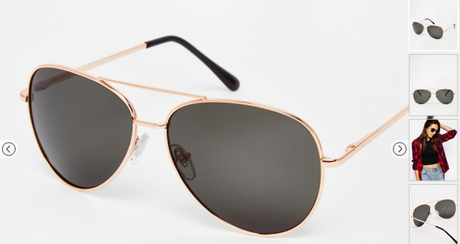 ASOS Gold Aviator Sunglasses
– £10
I really like these too! Again, I used to have a similar pair that I got from the airport about five years ago when I went to Egypt. I loved them and wore them for driving right up until late last year and then a lense popped out! The funny thing is I didn't even realize a lense was missing until all the other drivers started laughing as I drove past… oops.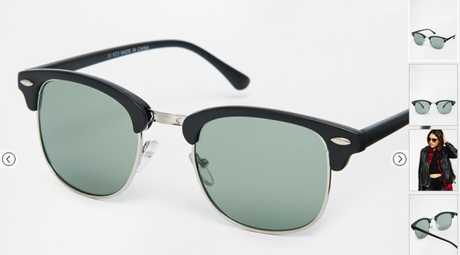 ASOS Matt Classic Reto Sunglasses
– £12
These are almost the same as the first pair I showed you, but they look like they'd be a bit more comfortable on the bridge of your nose. They'd be better if you're out in the sun too! We don't really want the dreaded sunglass tan lines if we can help it. I also like that they're black – they'd go with everything.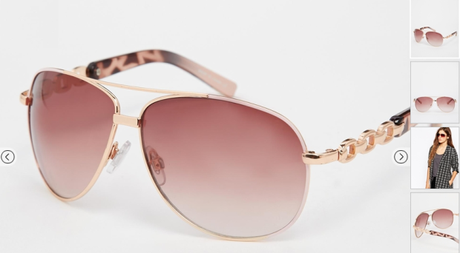 River Island Pippa Chain Arm Sunglasses
- £13
These are by far the favorite pair I've found! I really like the chain detail and that the arms are quite thin, which would be good for driving. The lenses look kind of pinky too… I know they're not rose gold in any way but that's what they remind me of for some reason! I do really really want them… I may have to treat myself (again) when pay day comes around!
Where did you find your favorite pair of sunnies? Are you a designer girl or go for the cheaper pairs like me? Let me know in the comments!
Oh, and before I go – I couldn't NOT share these will you guys!