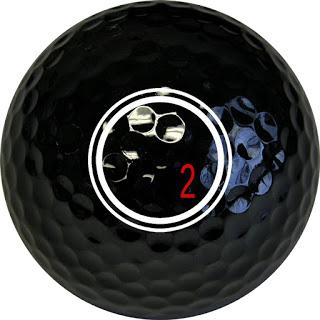 Should Golf Refugees bring back the original black ball?
This picture shows our proposed version 2 black golf ball.
Golf Refugees sold over 70,000 original black golf balls worldwide with no marketing budget. It was loved and featured in numerous style / design publications and at the same time dished by the golf media. Golf World magazine called it 'bonkers', whilst GQ USA raved about it.
Some of you may know that Nike copied the idea and brought out their own black ball, two years after Golf Refugees. This substantially reduced our sales in the USA, especially when Nike gave away their black ball for free when you purchased their latest boring white golf ball. When Golf World featured the Nike black ball they called it a 'great idea'. Which just goes to show reviews can depend upon the size of your advertising budget.
Golf Refugees managed to persuade an independent journalist working for The Times to review both black balls.
The question remains should Golf Refugees bring 'black' back?
#blackball
ooooooooooooooooooooooooooooooooooooooooooooooooooo