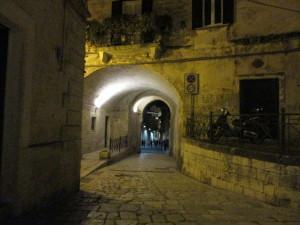 Non so voi ma io adoro pranzare o cenare con un'ottima compagnia, del buon cibo e un bicchiere di vino.
I nutrizionisti affermano che un bicchiere di vino al pasto fa bene: ovviamente senza esagerare come in tutte le cose.

Durante il mio soggiorno a devo ammettere che uno fra i tanti aspetti piacevoli è stato proprio il cibo.
La mia cena al è stata decisamente gradita ma non di meno anche al ristorante la , che si affaccia su una deliziosa piazza del Centro di Matera.
Elemento in comune un vino locale chiamato Lo Spaccasassi.
I do not know about you but I love to have lunch or dinner with good company, good food and a glass of quality wine.
The nutritionists say that a glass of wine with your meal is a good habit for your health - without overdoing as in everything.
During my holiday in Matera I must admit that one of the must enjoyable aspects it was the food.
My dinner atFrancesca's restaurant was very pleasing but nevertheless also the restaurant in the Gatta Buia, which is in a lovely square in the center of Matera. The common aspect in the two restaurants was a local wine called Spaccasassi.
Vino rosso, ben 15 gradi quindi da gustare con cibi decisamente corposi.
Il sapore? Io personalmente l'ho trovato divino!
Giusto due info che mi sono state date al ristorante da in somellier bravissimo ( rimango incantata ogni volta che un sommelier mi descrive un vino. Non ti capita la stessa cosa?)

Red wine, 15 degrees so I suggest you to eat with very full-bodied foods. The taste? I personally found it divine! Just two info that the sommelier of the restaurant has given to me about this amazing vine (Each time a sommelier describes me a wine I'm enchanted every. Happen the same thing to you?)
Quindi questo vino è il risultato di uve Cabernet, Merlot e Primitivo.
La qualità quindi non manca!
Io ho assaggiato la Tenuta Parco dei Monaci ma i produttori in zona sono tanti!
Da accompagnare con primi piatti ricchi, carni, formaggi o salumi.
Nessuna di queste cose manca nella bella città di Matera!
So this wine is the result of Cabernet, Merlot and Primitivo. And now? Are you ready with the glass? And then? Let's go to bed . Time to sleep is coming!

We are going to make a toast! I share with you some pics about what we have eaten during the dinner La Gatta Buia drinking this wine
The quality is guaranteed! I have tasted the spaccasassi called La tenuta di Parco dei Monaci. There are many wine producers in this area! You should drink this wine with rich pasta dishes, meats, cheeses or meats. None of these things missing in the beautiful city of Matera!
A questo punto?
Tutti con il bicchiere pronto che si brinda !
Vi lascio una carrellata di cibi con cui abbiamo pasteggiato alla Gatta Buia sorseggiando questo vino.

Non male!
E dopo? A letto per una bella dormita!
About The Author

Laura
Blogger , web content writer, marketing specialist e sognatrice. Amo la libertà, l'arte, i colori, il cibo, il sole, viaggiare. Il mio motto? Make something cool everyday!