Sometimes a small bathroom can make you feel trapped. There, there, it doesn't have to be this way! Small bathrooms hold something that big bathrooms can never provide; a cozy and comfortable personal nook! There are a few ways that you can go about this and the changes you make don't have to include blowing out the wall in your bathroom.
Some of the best ways to maximize space in a small bathroom include changing your color palette, using valuable wall space, and opting for European style decor.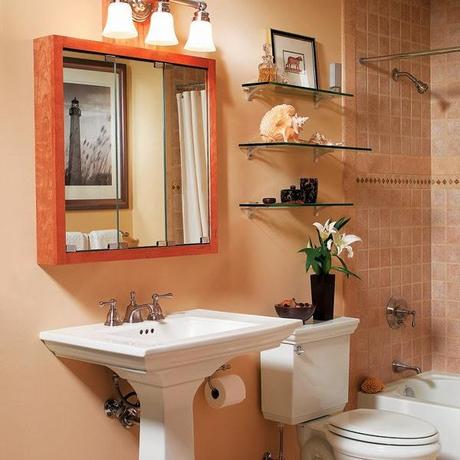 Tiny Bathroom Big Ideas
Organize Your Mess
Before you even start thinking about trying to increase the size of your bathroom, you need to make sure you get a fair understanding of what you're working with. It's March so it's just about time to do some Spring Cleaning! Get rid of any unused items and things that don't belong in the bathroom. Your bathroom cabinets are not dead storage space!
If you're the type that likes to find the easy way to do things (not that this is a bad thing), you should check out these cool bathroom hacks that will help save space in small bathrooms. There are some nifty products out there that alleviate the headaches of those struggling with space in their bathrooms.
Tip: Remember the Golden Rule; if you haven't used it within the past year, you probably won't use it. Time to toss it!
Color Palette
It's amazing to see just how much color can change the look and feel of a room. Using light colors will promote the reflection of natural light. This will give your small bathroom an open and airy feel that is connecting with the great outdoors. This way, you will be less inclined to feel as though you are trapped in a tiny outhouse. Yuck!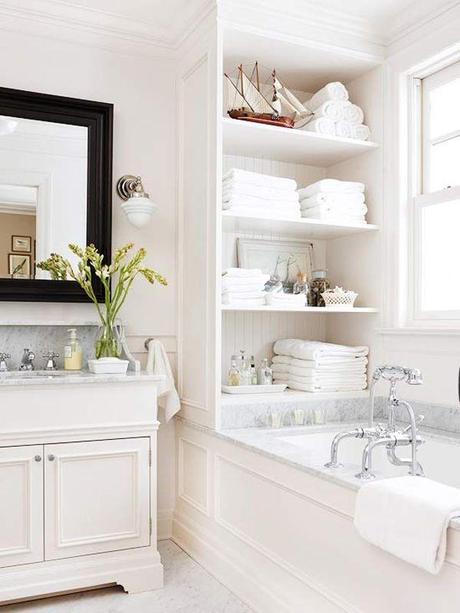 Source: Pinterest
You can start by reading this post to learn How to Totally Nail a White Bathroom Design.
European Style Bathroom Decor
European bathrooms are smaller and more narrow than we are accustomed to here in the states. Check out these European Design Bathroom Pictures. This foreign style works great in small bathrooms because it uses the dimensions of the room to its advantage. Both kitchens and bathrooms are very slim in comparison to American homes.
If you're daring and looking for something unique, you can look into designing a wet bath. The European wet bath is designed in a way that intends to allow the entire room to be water friendly. This eliminates space between fixtures. In these layouts, there is no shower glass/curtain and everything in the room in waterproof. Again, this is something to get used to but it's a space saving idea that may be feasible for some.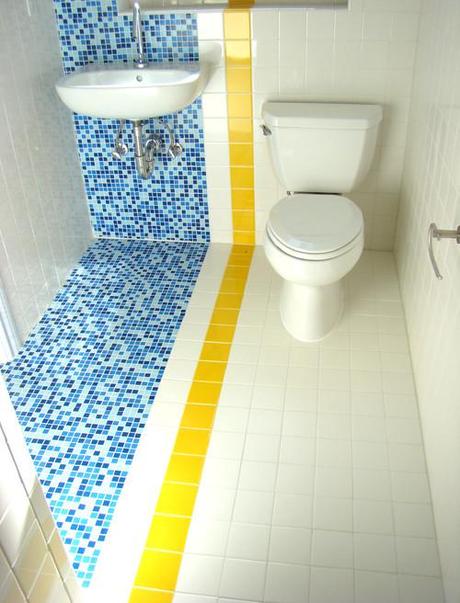 European Wet Rooms feature compact spaces and are designed with waterproof materials throughout the entire room.
Use the Space Above the Toilet
Countertops that extend beyond the cabinets can add some much needed counter space. Along with wall-mounted linen cabinets, you can also install shelving above the toilet and even the door to save space in your cabinets. Hang linens, cosmetics, and toothbrushes on these shelves. You can check out this cool DIY Corner Shelving project to see just how easy it is to make one on your own!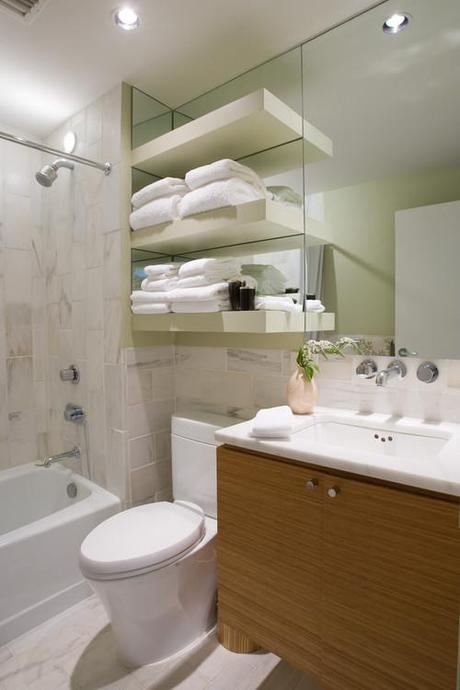 Source: Houzz.com
Curbless Shower
Eliminate a shower enclosure that can take up a few extra inches in width. A curbless shower with a glass door will not only maximize space in the bathroom, it will make your small bathroom look and feel bigger. You can learn more about this contemporary feature by reading this post: Raising the Bar with Curbless Shower.
More Space Saving Ideas:
Budget Remodeling for Small Bathrooms
20 Small Bathroom Vanities That Are Big on Style
Floating Bathroom Vanities: Space and Style to Spare!
About this Post
Cheryl Khan writes about home decor and related topics including interior design, modern architecture, and residential landscaping and architecture. She can be found on Twitter @SuperInteriors or you can add her to your circles on Google+!