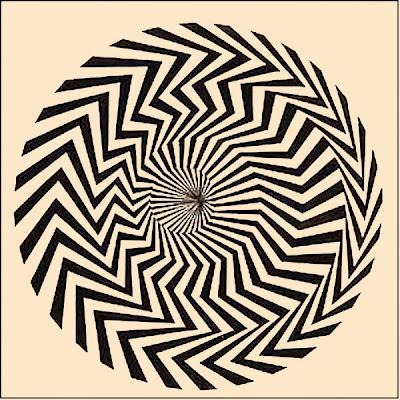 Composition with circles by Bridget Riley
With new technologies allowing 360 degree printing on golf balls.
Could the age of the disappearing plain white golf ball be coming to an end?

Golf Refugees have never understood why 'white' is still the prevailing color of golf balls. Our original black golf ball was partly introduced to open up a debate on the virtues of different colours for golf balls.

Can we now all learn from celebrated 60's British artist Bridget Riley? Acknowledged for her distinctive, black and white optically vibrant drawings called 'Opt Art'. Which give the impression of fast spiralling motion as observers move their eyes around the image.

A patterned golf ball will be more visually stimulating in the air, on the ground even amongst fallen Autumn leaves. Perhaps our 'Spiral ball' will begin a new era of the highly visible golf ball.
-----------------------------------------